Our time with the Himalayan Institute had ended and everyone was going their own ways today. Some of us were going home, others continuing to travel. Jane and I were off to Agra via Delhi. We had one more adventure however, in Varanasi that we were going to do on our own with some of our friends from Dallas.
This morning we are visiting some of very special Temples that had been suggested to us from our friend and mentor in Dallas.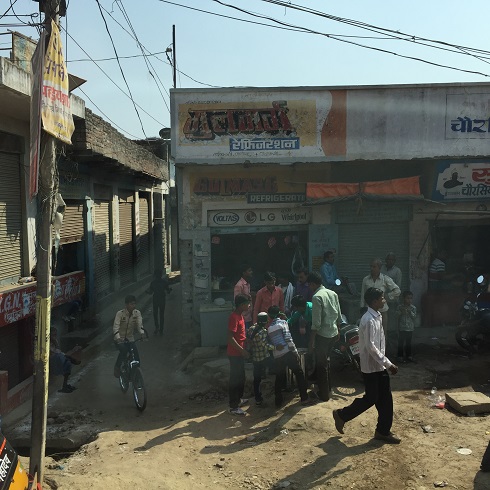 This adventure was not part of the agenda and the fact that we had to leave really early in the morning to do it made me feel like I was a teenager sneaking out of the house without my parents knowing about it.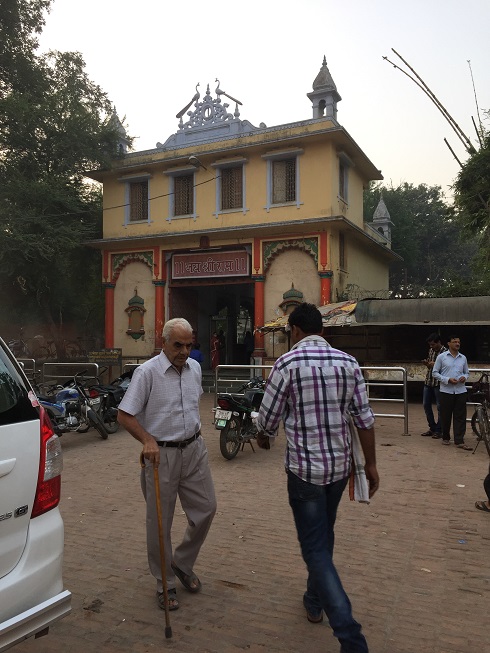 Our first stop was Sankat Mochan temple. We weren't allowed to take pictures inside, but you could tell it was going to be something very special by all the people that were already there. As we entered in through the gates we were met by hundreds of monkeys. Mom and Dad monkeys, many of them with their new babies. Dad carried them on his back and mom carried them while nursing. It was like nothing else I had ever experienced. Really, really cool. Inside there were many places to place offerings, but it was in the center where we were able to leave food. Sondra and I gave sweets and tulsi. It was really special ringing the bells and experiencing this temple.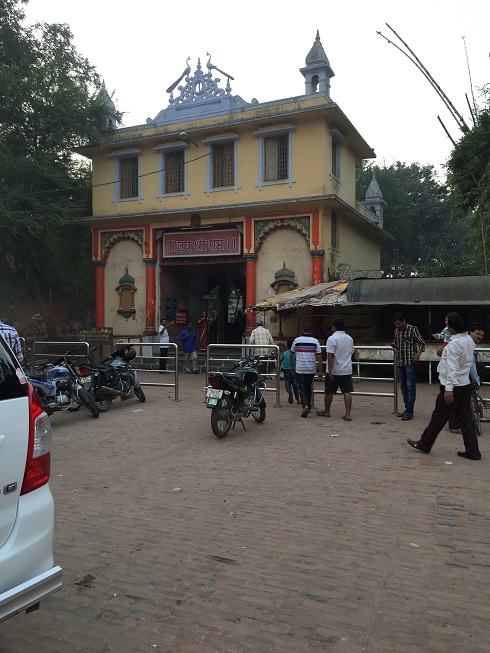 Sankat Mochan temple is one of the sacred temples of Varanasi. It is located in the southern part of Varanasi, near the Banaras Hindu University. It is dedicated to the Hindu God, Hanuman. The word "Sankat Mochan" means one who helps in removing sufferings i. e. Lord Hanuman. Tulsidas, the author of the famous Hindu epic Ramacharitamanasa, founded the Sankat Mochan temple. According to Hindu mythology, one who visits the Sankat Mochan temple regularly, his wishes get fulfilled. The current temple structure was built in early 1900s by the educationist and freedom fighter, Pandit Madan Mohan Malviya, the founder of Banaras Hindu University.
Every Tuesday and Saturday, thousands of devotees queue up in front of the Sankat Mochan temple to offer prayers to Lord Hanuman. According to Vedic Astrology, Hanuman protects human beings from the anger of planet Saturn and those who have ill placed Saturn in their horoscope visit the Sankat Mochan temple to get remedy. People put "Sindoor" on the statue and offer "laddoos" to Lord Hanuman. The "Sindoor", from the statue of Lord Hanuman is put on the foreheads of devotees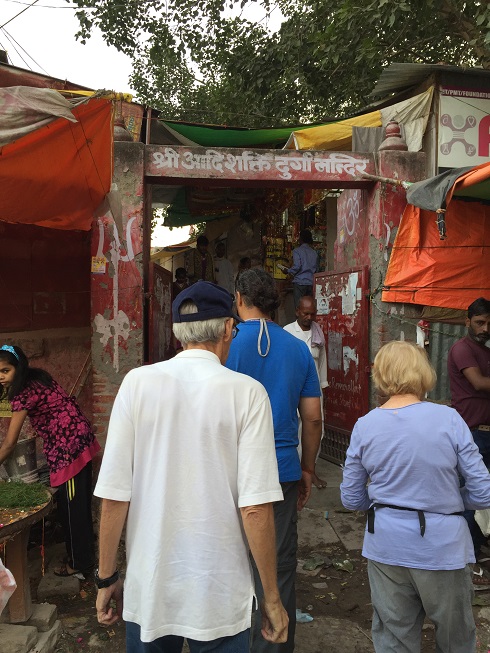 Our next stop was Durga Kund and Temple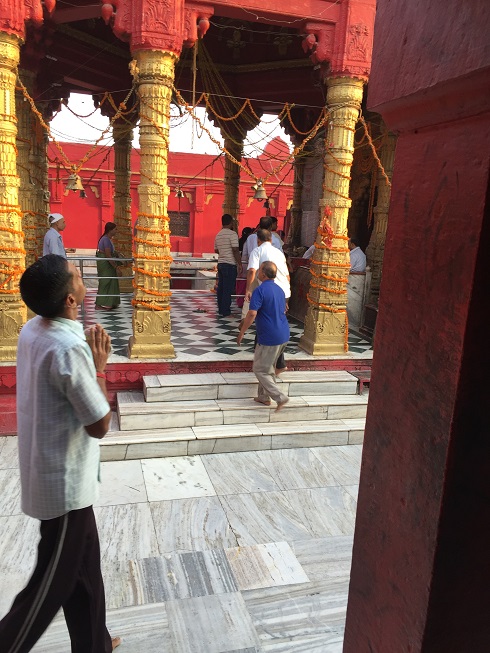 Durga Mandir, also known as Durga Kund Mandir, Durga Temple and also monkey temple, is one of the most famous temples in the holy city of Varanasi. This temple has great religious importance in Hinduism and is dedicated to the Maa Durga. Durga Mandir was constructed in 18th century by Bengali Maharani (Bengali Queen).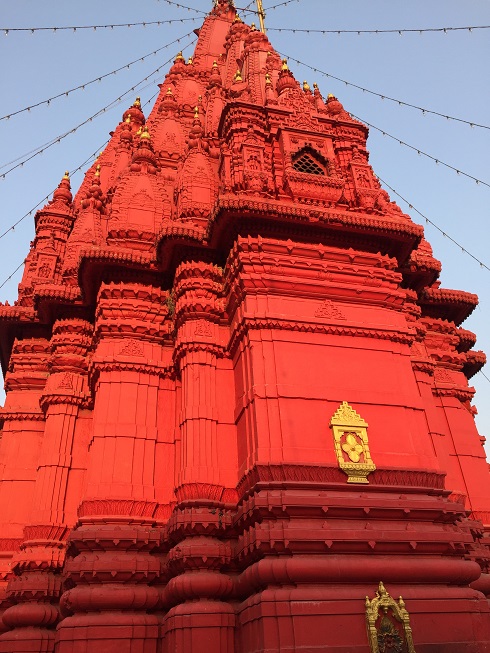 Durga Mandir was constructed in the 18th century by Bengali Maharani. The temple is dedicated to the Goddess Durga.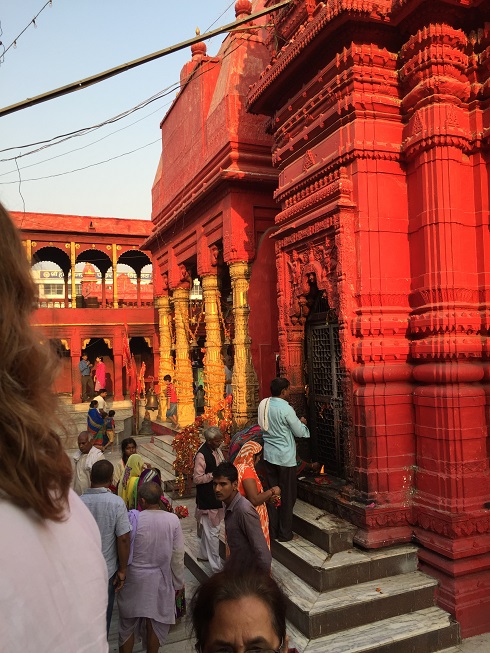 In adhyaya (chapter) 23 of the Devi-Bhagavata Purana, this temple's origin is explained. As per the text, Kashi Naresh (king of Varanasi) called for a Swayamvar for his daughter Sashikala's marriage. The King later learnt that the princess was in love with vanvasi prince Sudarshan. So Kashi Naresh got his daughter secretly married to the prince. When the other Kings (who were invited for Swayamvar) got to know about the marriage, they got angry and went on war with Kashi Naresh. Sudarshan then offered prayers to Durga, who came on a lion and fought the war for Kashi Naresh and Sudarshan. After the war, Kashi Naresh pleaded to Durga to protect Varanasi and with that belief, this temple was constructed.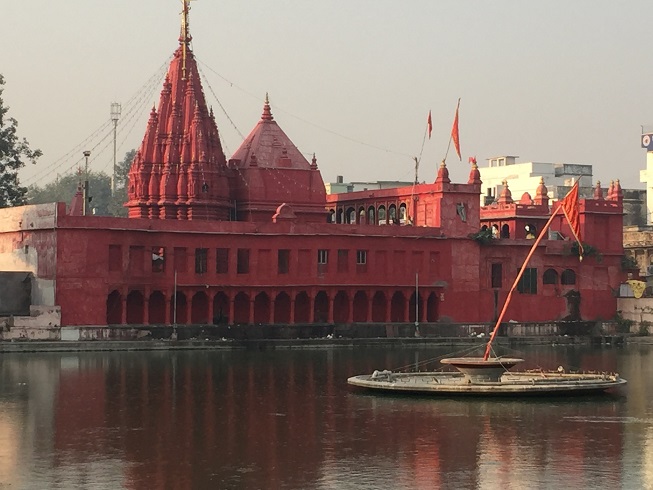 Next to the temple, is a kund (pond) which was earlier connected to the river Ganges. It is believed that the existing icon of the goddess was not made by a man but appeared on its own in the temple.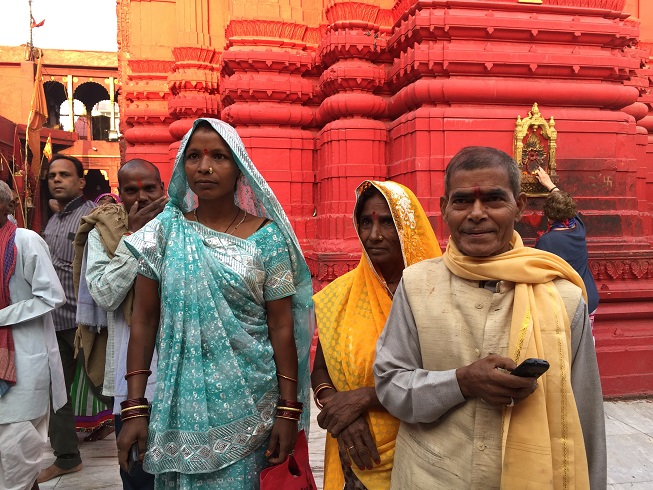 These nice people asked to take our pictures. We agreed and then they let us take theirs.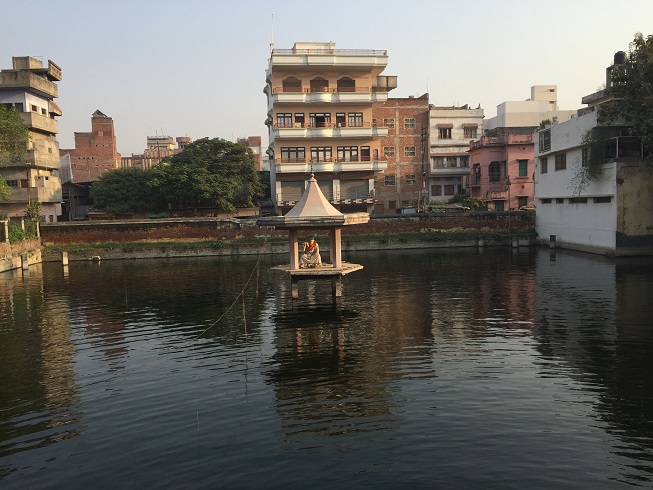 The next temple was Kreem Kund. Also known as the Kinaram Sthal, it has one of the most ancient histories anywhere! Lord Buddha got his deeksha here. King Harishchandra was tested here and in 16th century it was chosen as the place for the Aghor Peeth established by Aghoracharya Baba Kina Ram. It has an unconventional feel about it with huge human skulls adorning the entrance gate. Inside there is a fire which has been burning for the past 400 years and is kept lit using the wood taken from the "shmashan ghats" of Kashi. It's said to be the epicenter of Aghor thought stream in North India. There's a Kund in the premises (as can be seen in the photograph) which has medicinal/spiritual properties and can cure ailments. As with all aghor peeths, even here only the serious "saadhak" is encouraged and the non-serious ones are not paid attention to, if they at all dare to enter the premises, that is!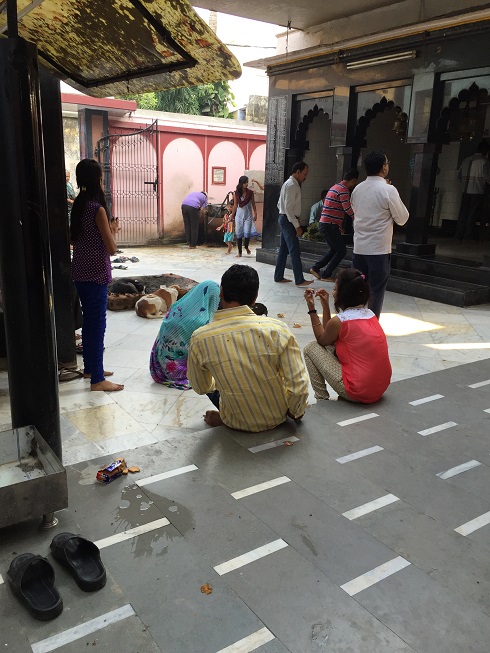 The last temple we visited was Kamacha.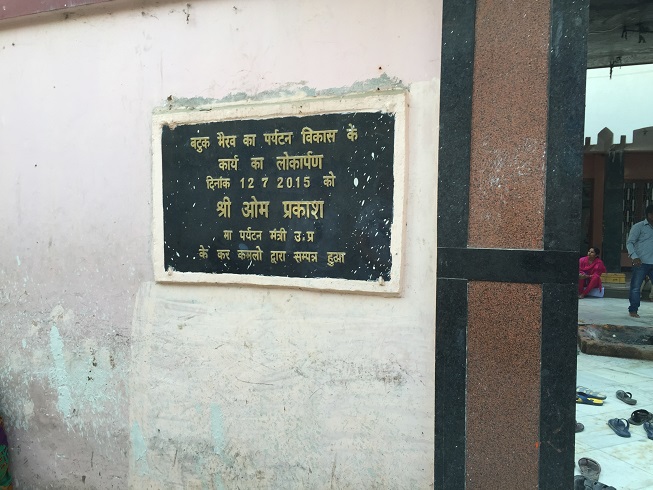 Kamacha temple or the dog temple was true to its name. Many stray dogs were hanging out here.
You can see a statue of one up on the roof.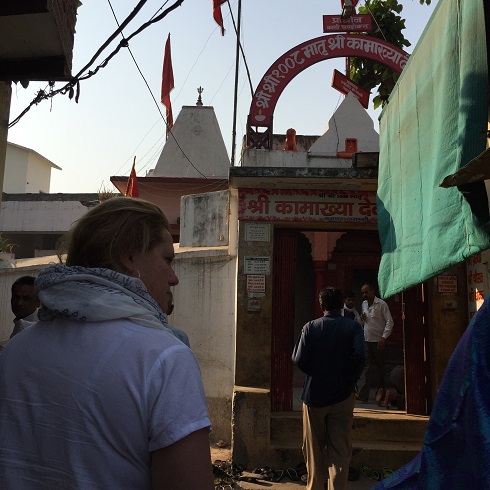 It was a really cool temple, a mother dog had given birth and there were a few little puppies tucked back in a corner protected from the other dogs.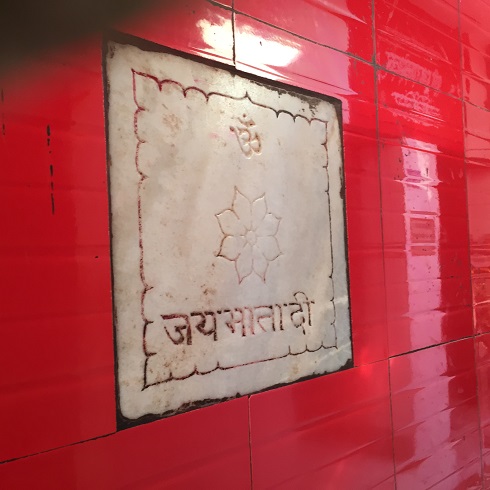 I don't know what this says, if any of you know, let me know and I will add it to my blog.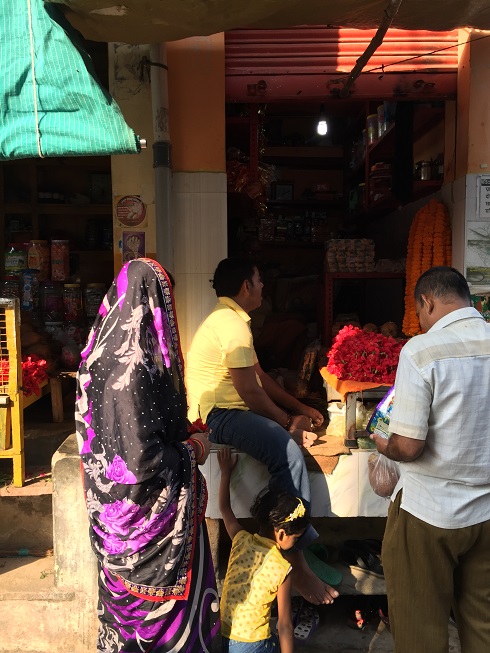 We then headed back to the hotel to get ready to leave for the airport.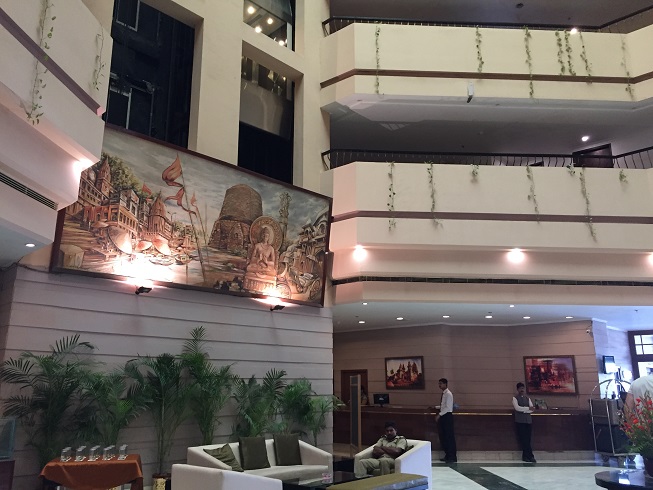 It was quite quiet as we waited for our bus. I thought the picture above the lobby was quite beautiful.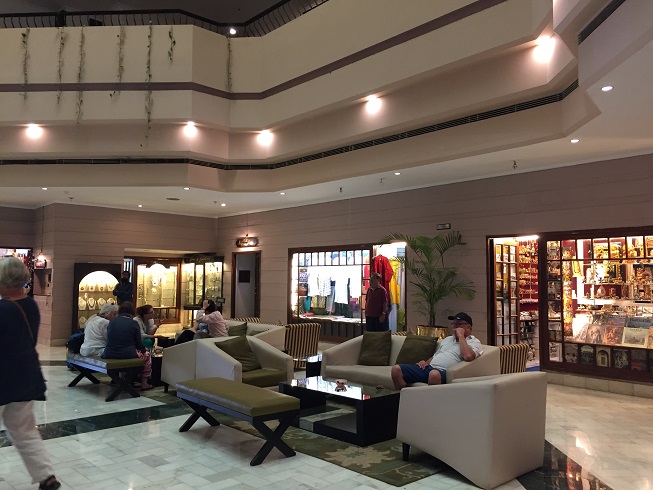 This was a cool hotel because it had a bunch of great shops!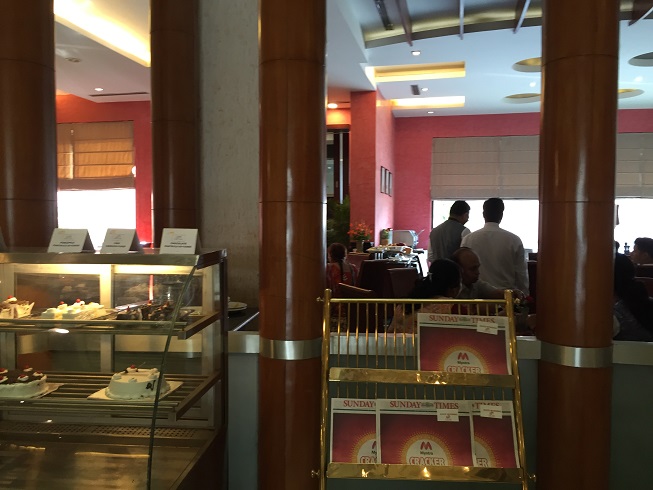 And of course the restaurant served some pretty tasty food.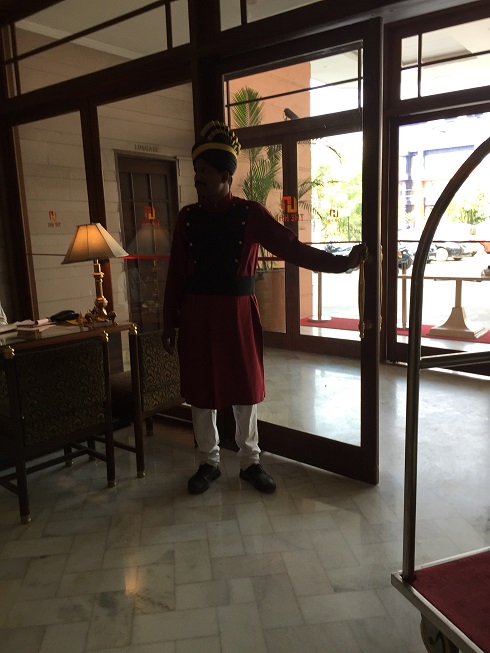 Our doorman let us know that our bus was here. Off to the airport and for Jane and me, it was on to the next adventure.
Keep following as we now head for Agra and the Taj Mahal!
Thanks for reading, sharing and commenting.
Namaste, Peggy