The second day in Varanasi had been very busy, we had visited the Ganges River, The Vishwanath Temple and Sarnath in the morning and early afternoon. In the evening we had a big celebration on our agenda.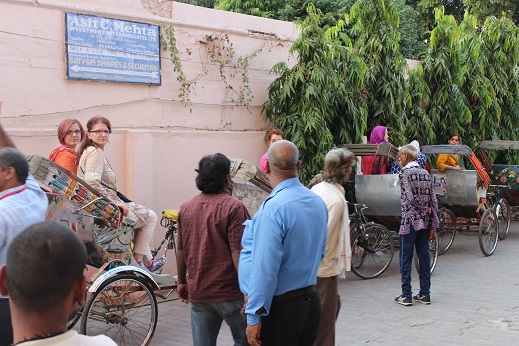 In the late afternoon, we all met outside the hotel to meet our bike taxis.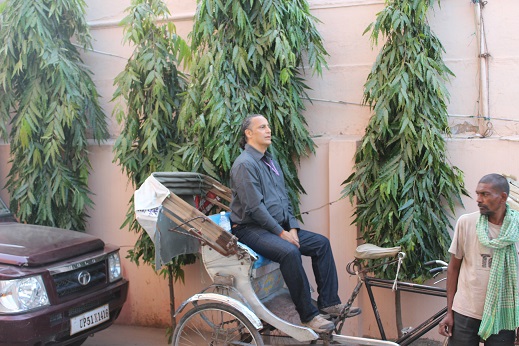 Some of us shared a taxi, some of us had our own.
When everyone was in and comfortable, the bikers started off, heading back to the river.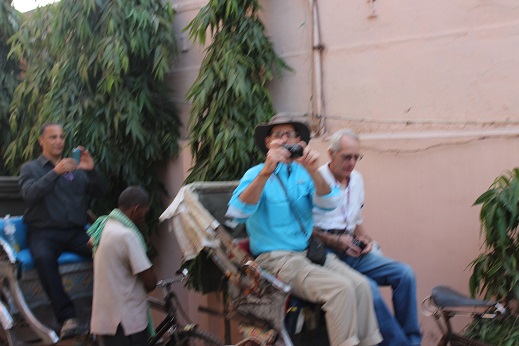 This was a great way to travel as the crowds heading for the river were dense.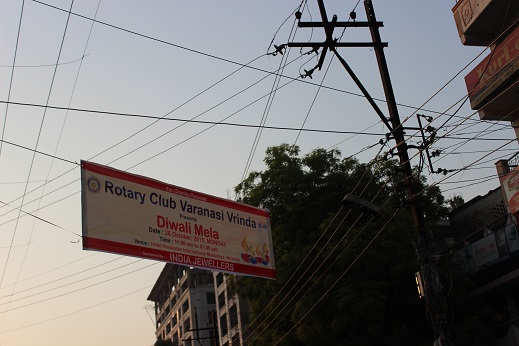 Loved that they had a Rotary Club!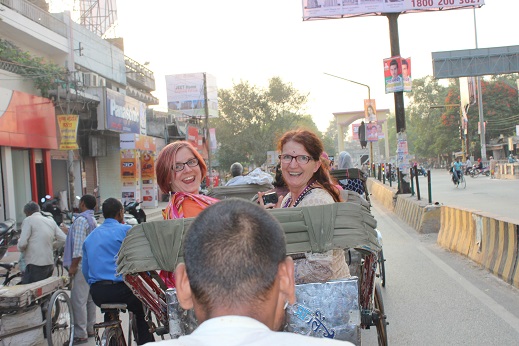 It was so fun, but I felt bad for the bikers…that was a lot of work!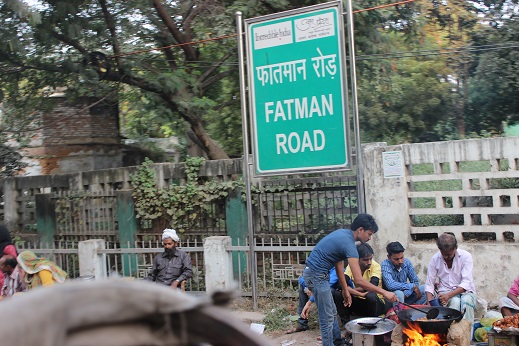 Loved the name of this road! Looks like the fellas are cooking up some supper!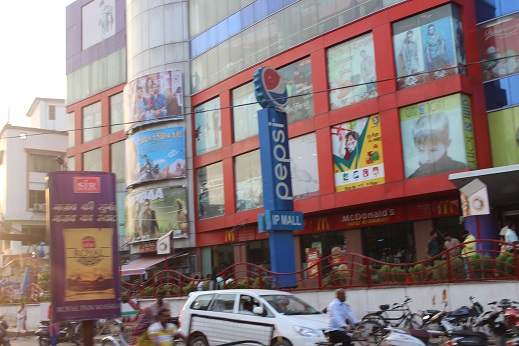 For my friends that work for Pepsi, a little advertising!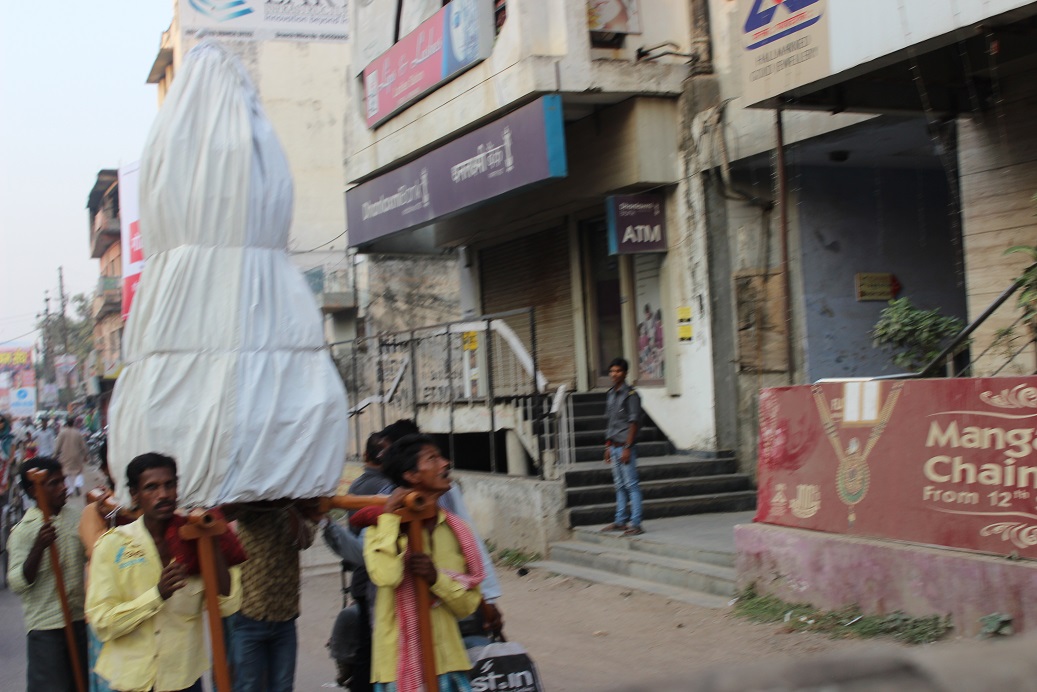 These guys were carrying some sort of statue or maybe one of the big candle holders we were going to see later?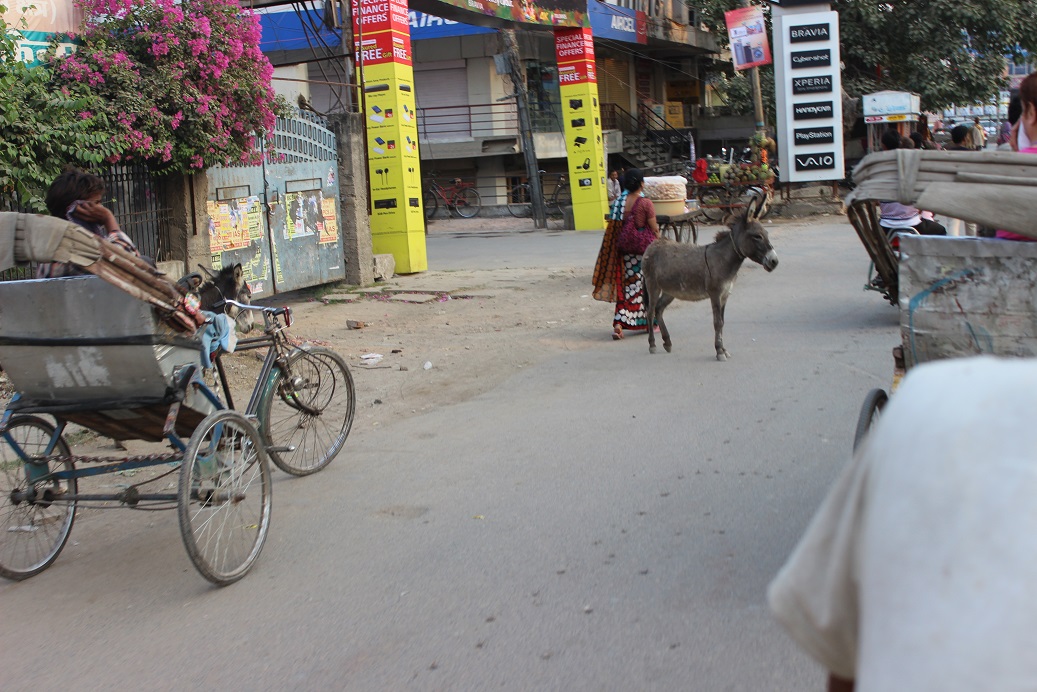 This baby donkey owned the road, he was so cute.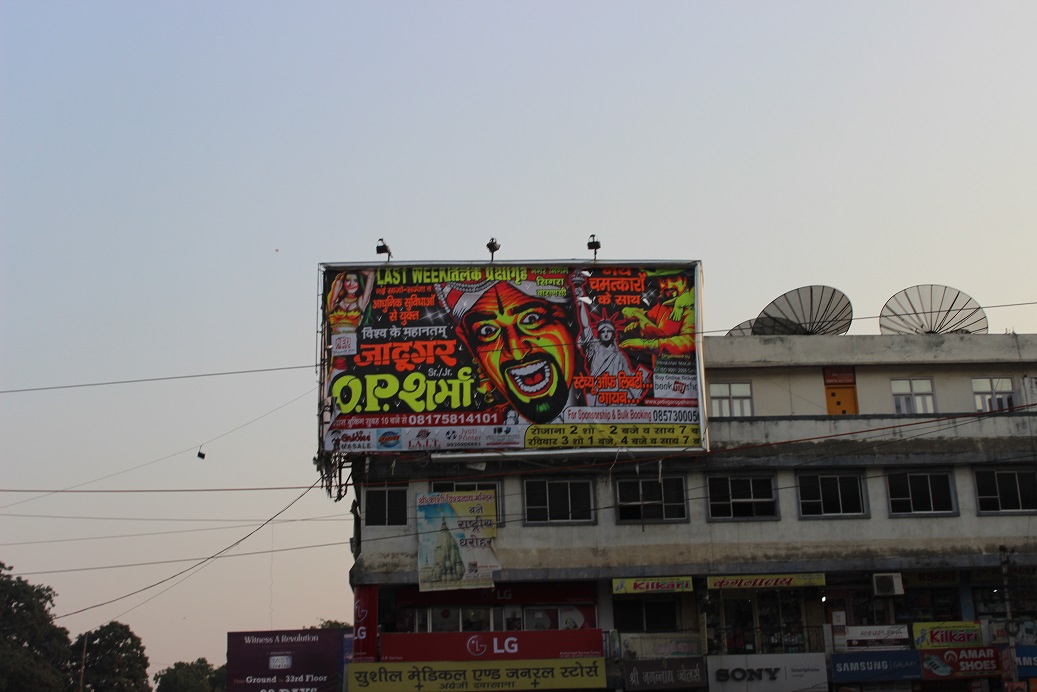 This sort of creepy sign advertised some movie.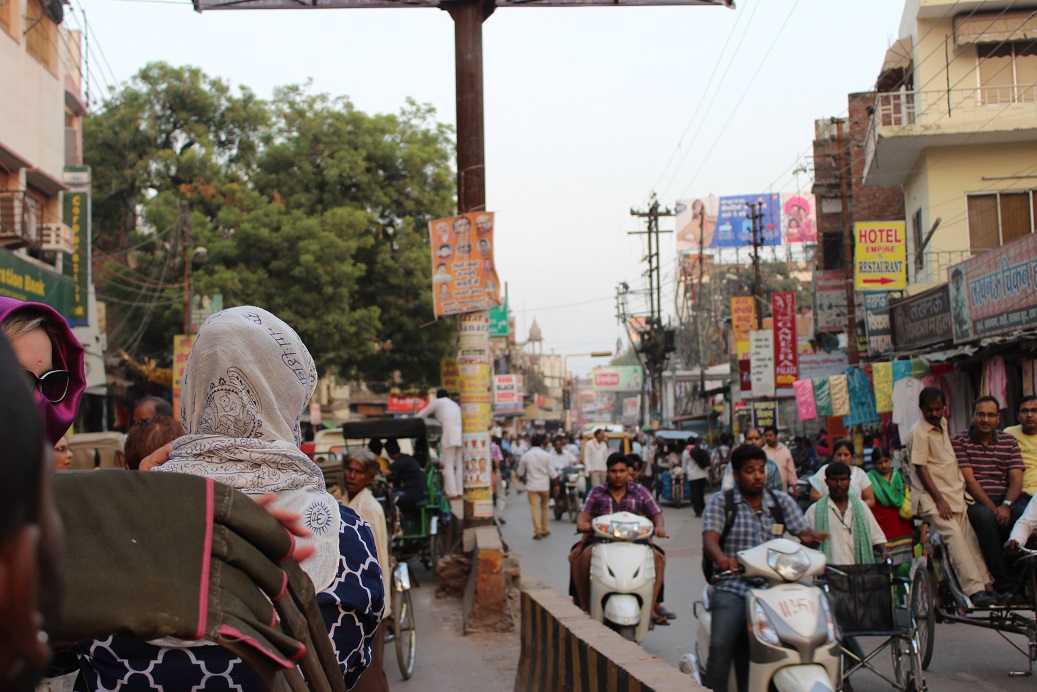 As we got closer to the river, the traffic picked up.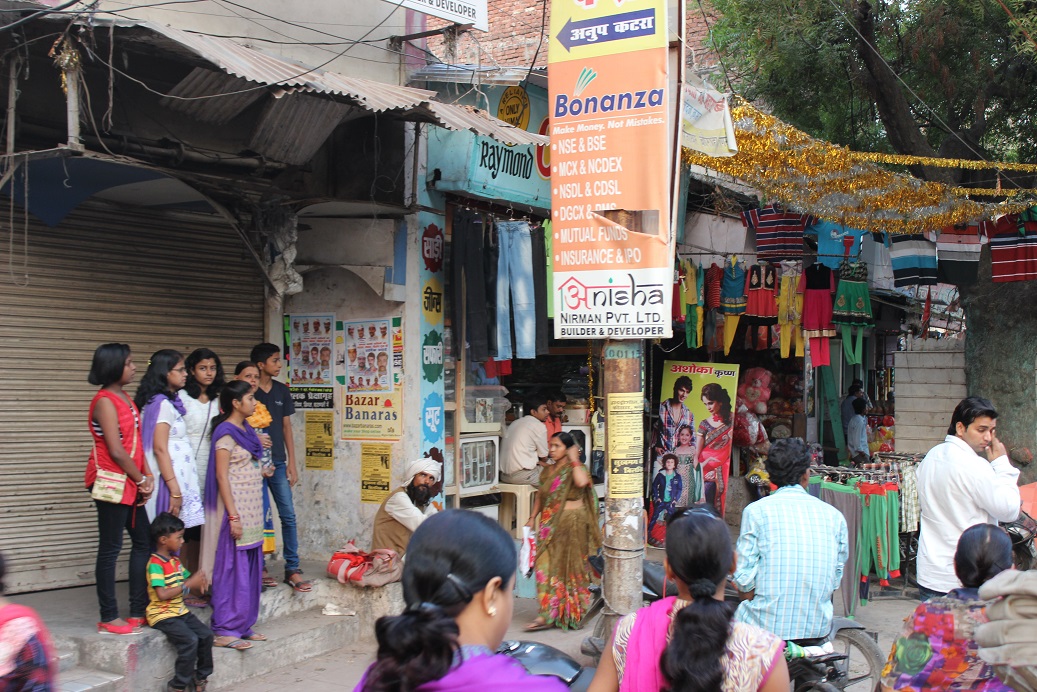 Wherever there are people, there are vendors selling things.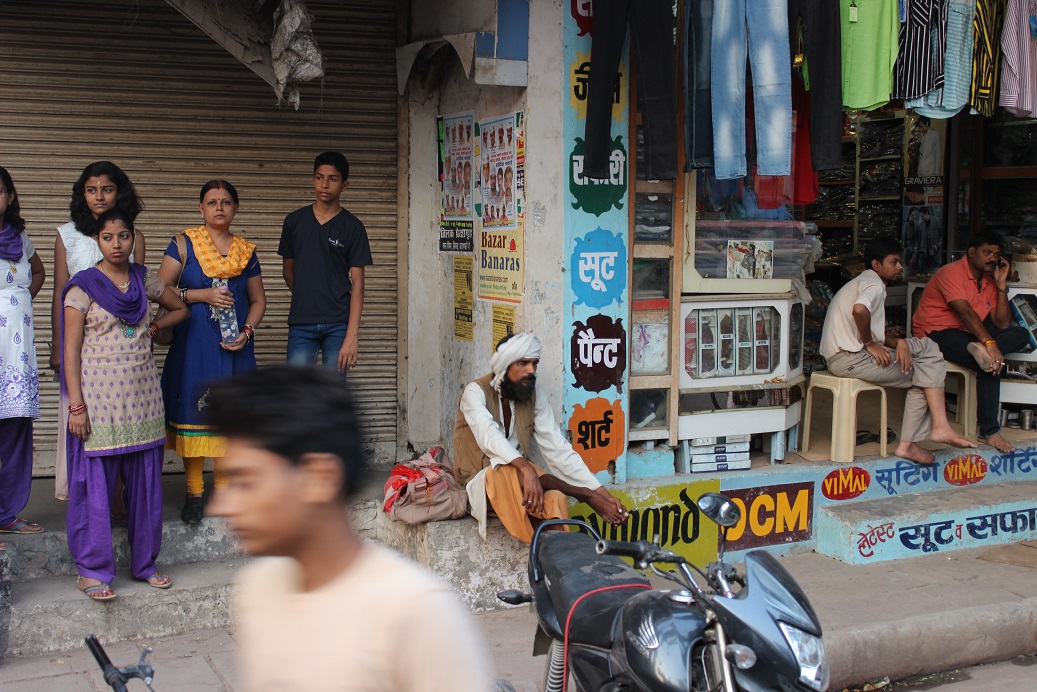 In addition to the shops that were along the road, some people set up shop right in front of them.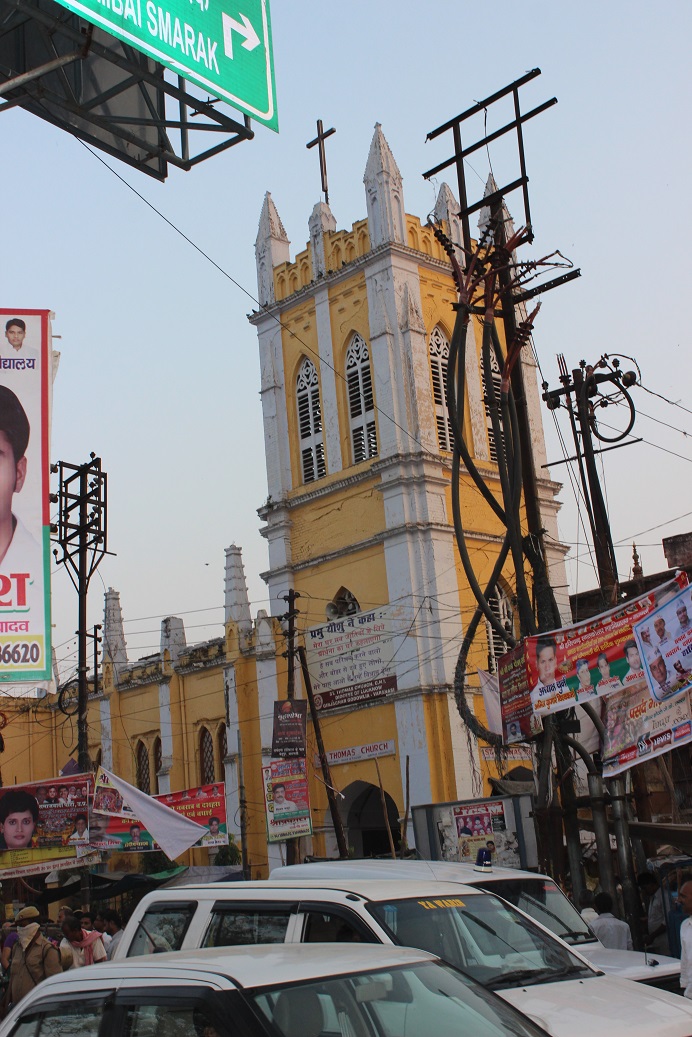 This church was quite impressive.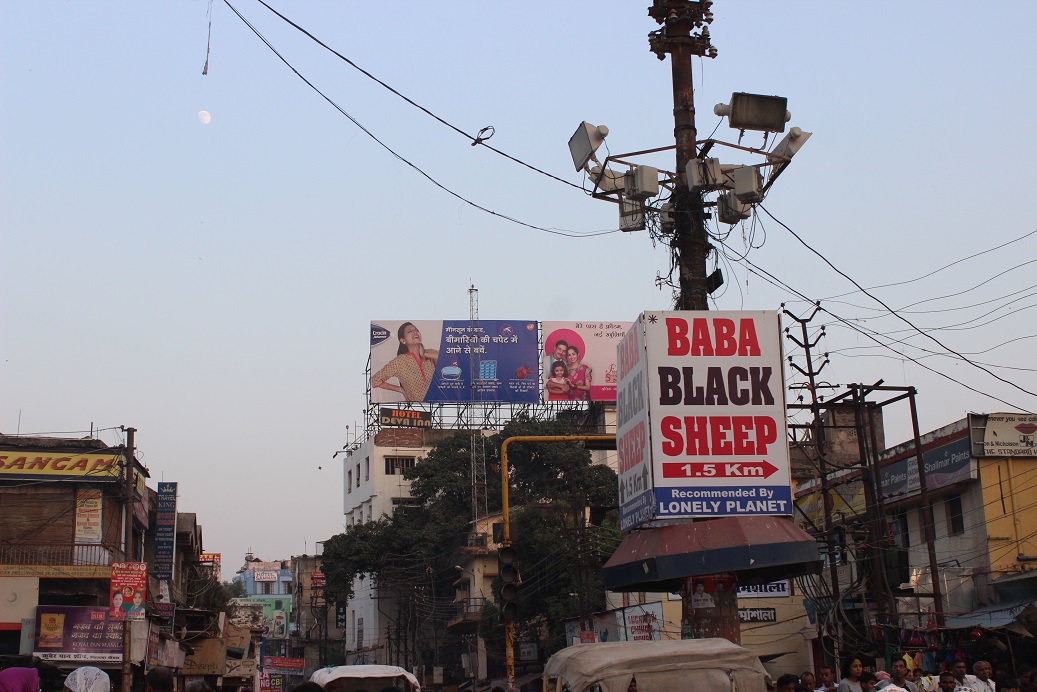 BaBa Black Sheep is a market well known across the world. Again, I wish I would have known that before I came, but I always like to see a city "raw" the first time…much more exciting that way!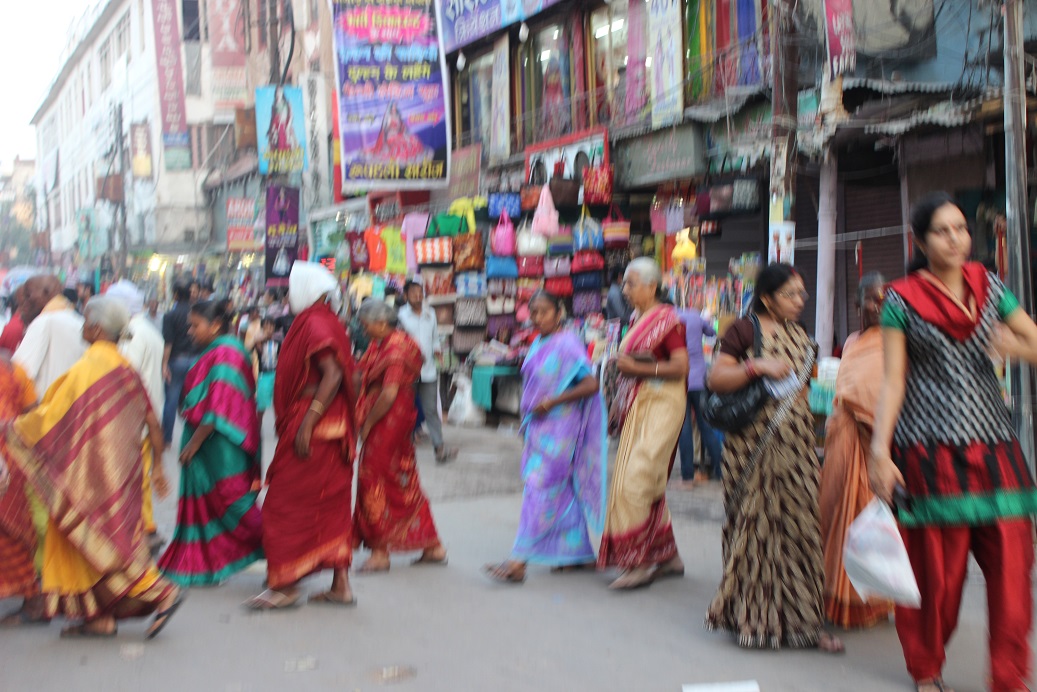 The streets were bustling and as we got closer to the river, again, I wish I had found this part of town earlier in the day when we were looking to do a little shoping.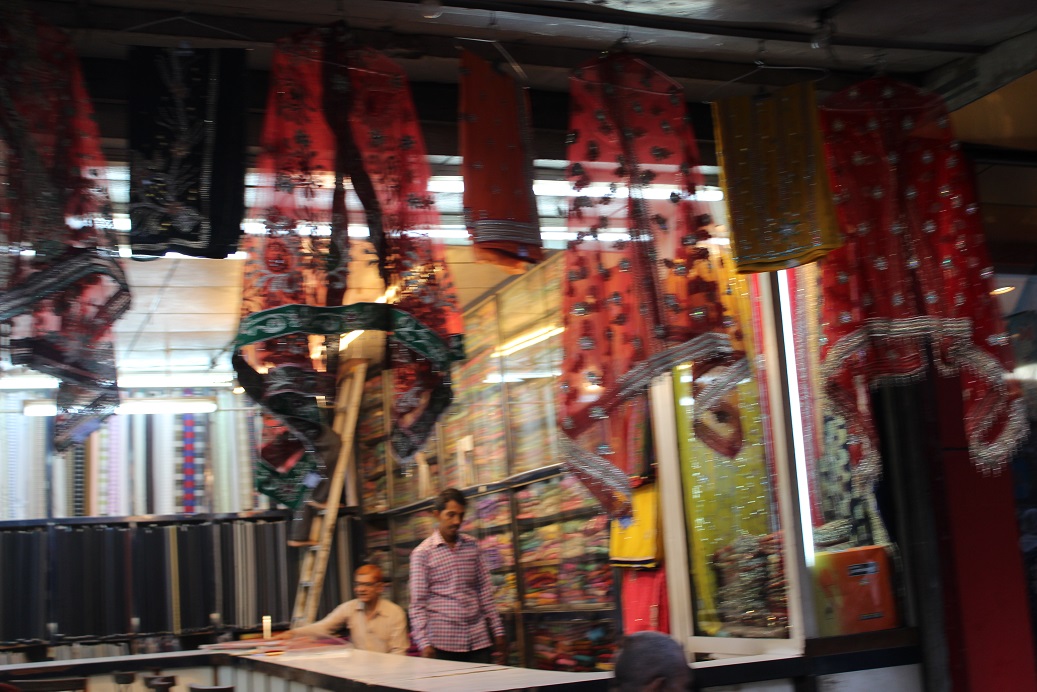 This must have been their version of 5th Avenue! Fabric and clothing stores galore!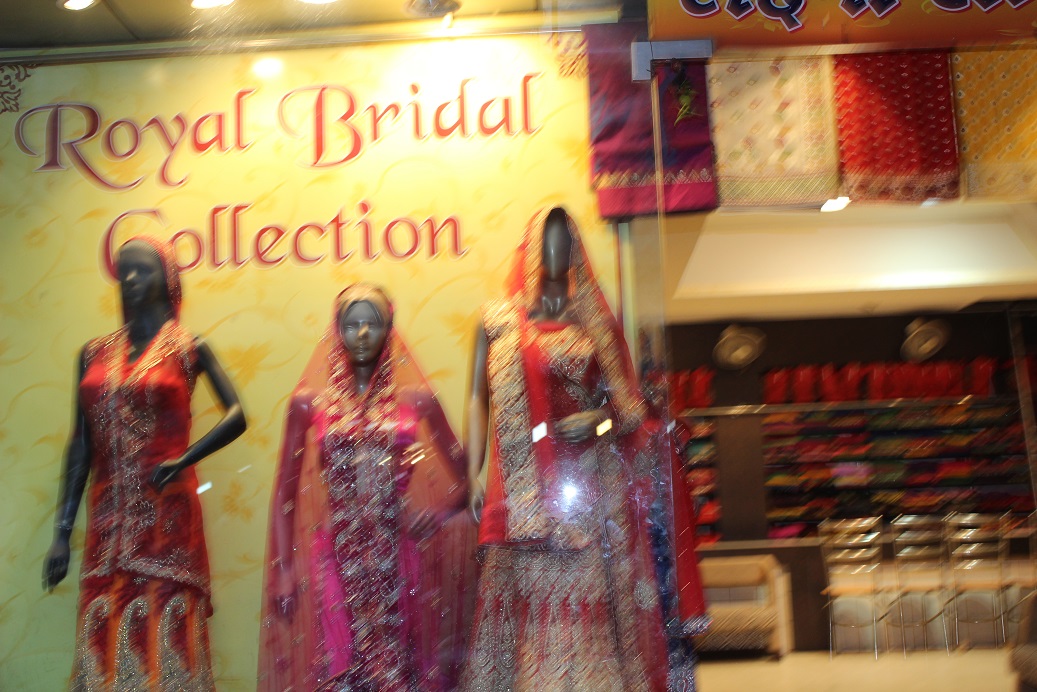 An entire street of Saree stores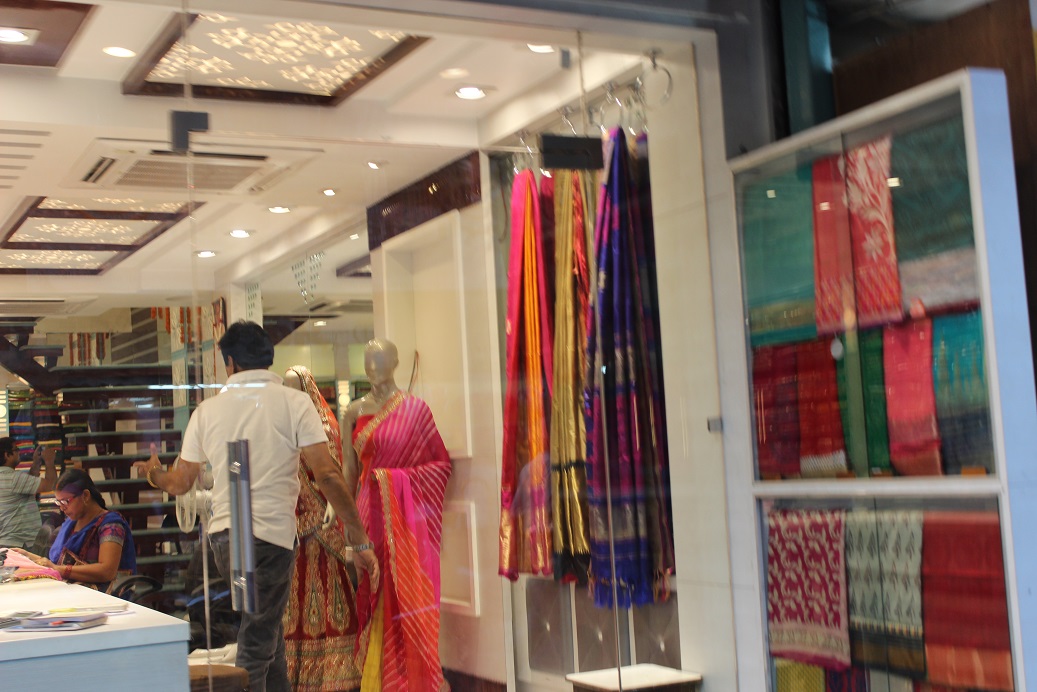 This could have been very costy had I found it. So beautiful and so bright!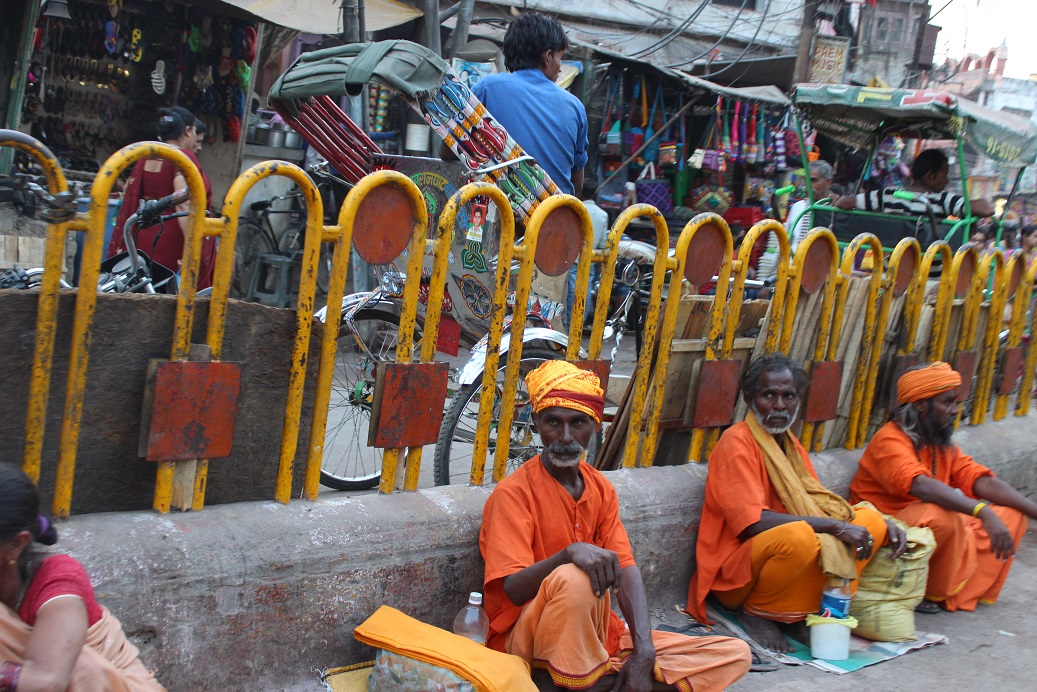 One of my favorite things about Varanasi was the Sadhus!
"Sadhus, also known as sages and sanyasis are people who having renounced the world and its earthly pleasures, spend their days and nights in meditation and prayer. Holy places of pilgrimage like Varanasi are largely defined by these holy men who congregate there. They are said to believe that the constant repetition of the name of a god or a powerful phrase (mantra) can be internalized and synchronized with ones breathing so that the utterance of the prayer lasts until death.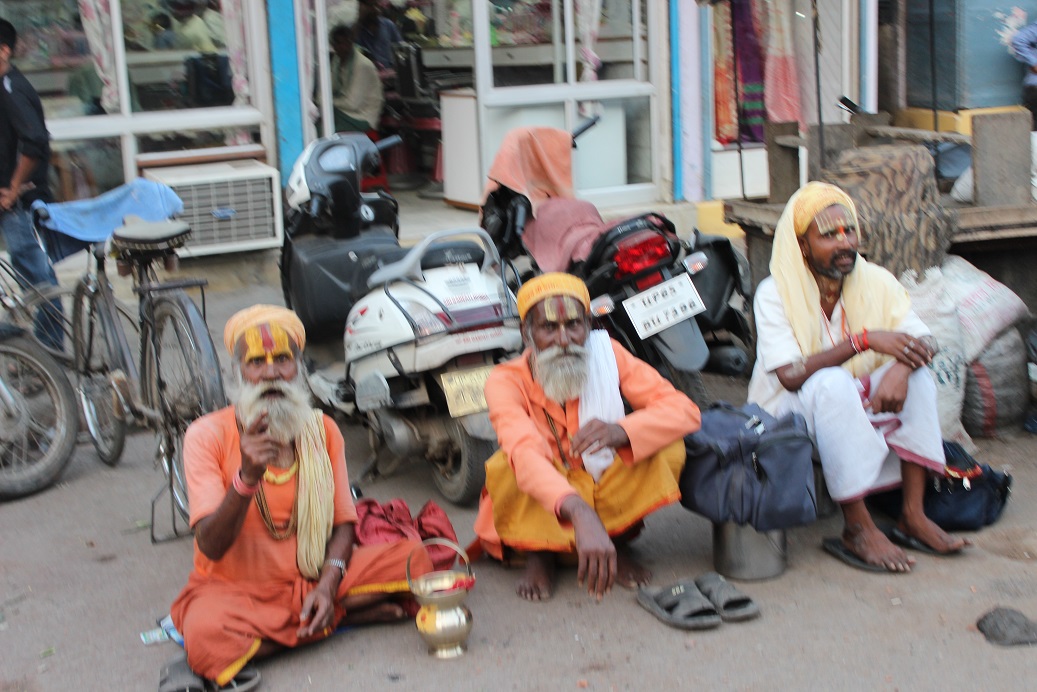 They move from one place of pilgrimage to the other or from one major festival in a place to another somewhere else. Those not on the move, remain in one place, lost in prayer and meditation. Some give solace and advice to lay people seeking help in spiritual matters. Some practice harsh austerities like standing on one leg for so long that the muscles in the other leg wither away. Even birds are said to have built their nests in the hair of meditating hermits lost in fixity and prayer.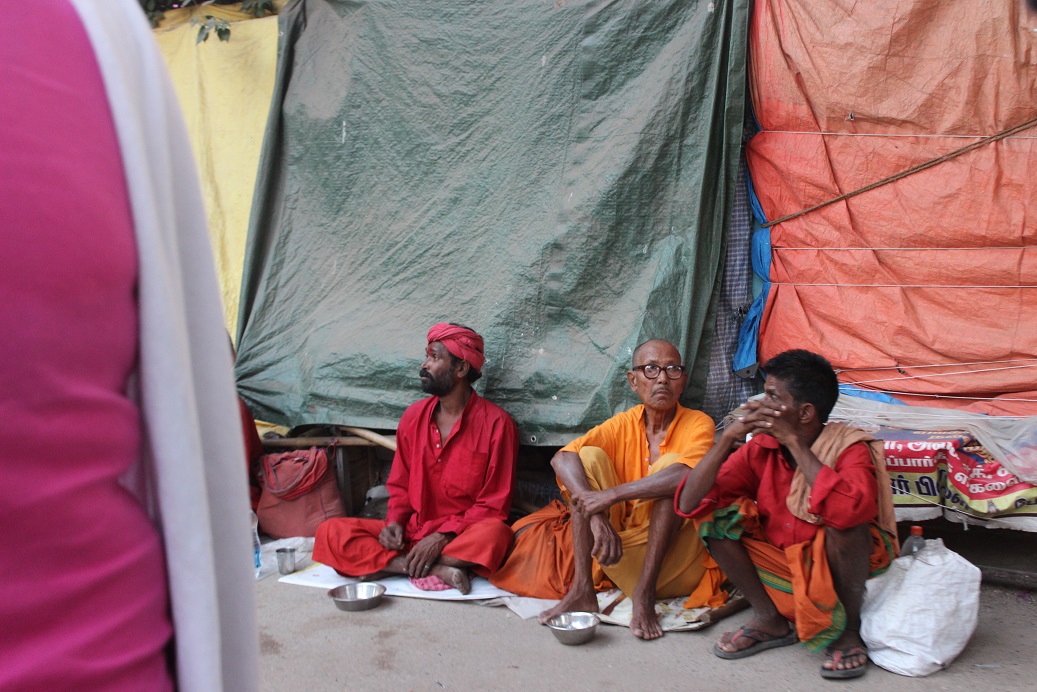 There are various sects of sadhus, each of whose practice differs from the others. But in one thing they are all united: the longing for union with the divine. The sadhus take in all ages. The way they wear their hair and headgear is as different as is their apparel. The caste marks on their foreheads differ from person to person. But all these differences are as nothing when it comes to the manner in which they address themselves to the divine. Though the forms of God are many, they are merely viewed as aids through which to approach the Supreme Being. The fallout of this inclusive approach to religion lends color and diversity to the sadhus themselves." (Banaras, Roli Books)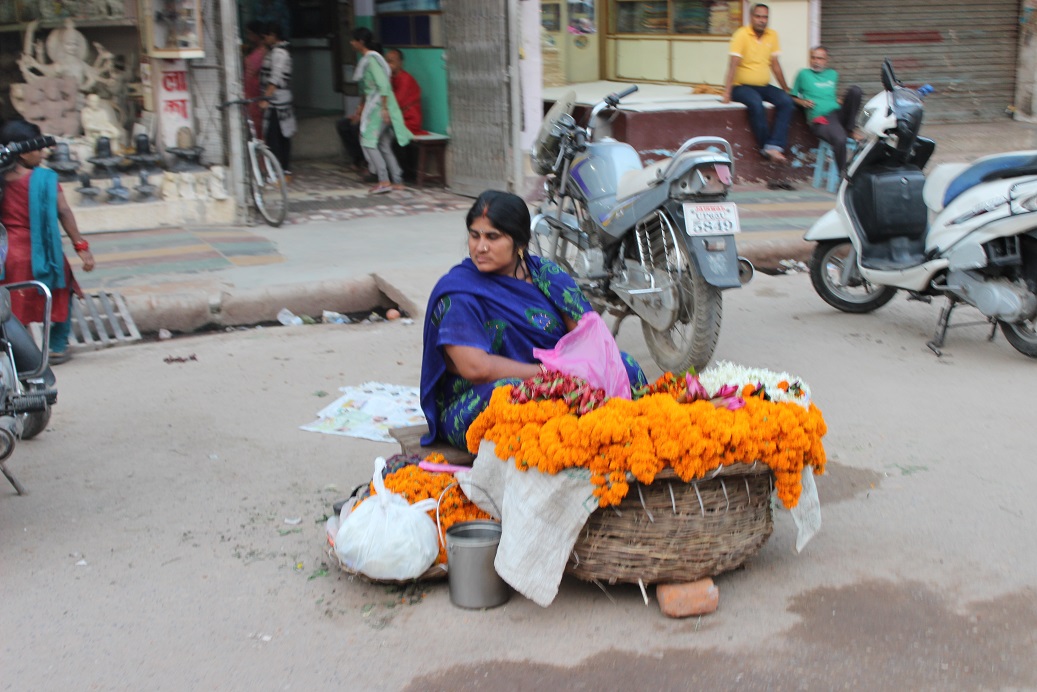 And of course we see the flower ladies, skilled only at stringing flowers, they find a way to sell enough to feed their families.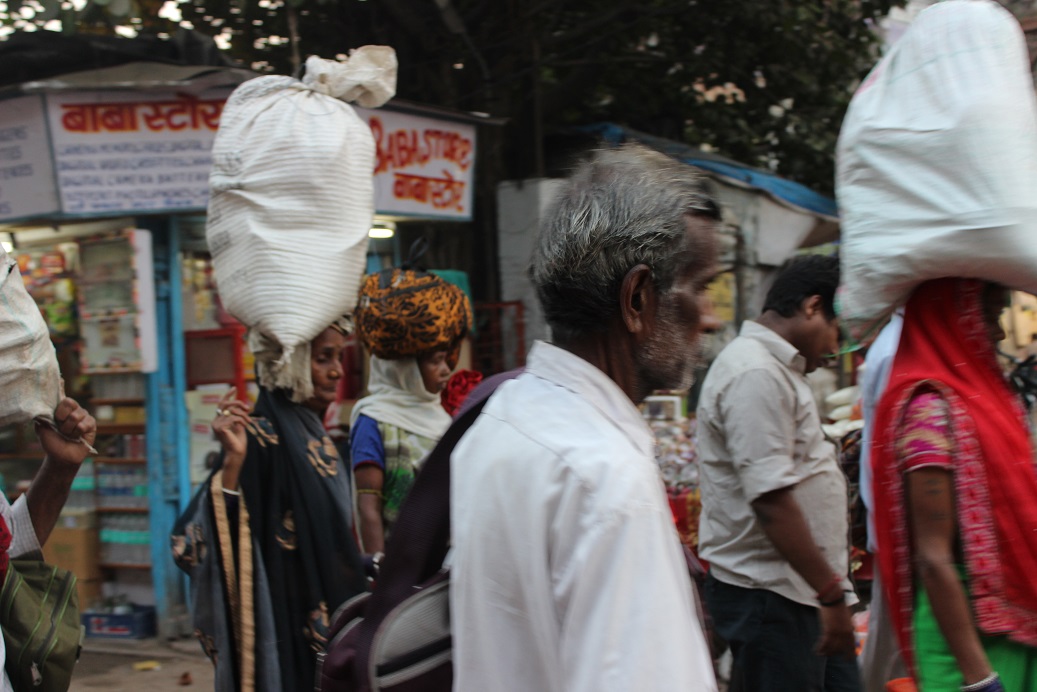 Everyone busy taking care of business. The head seems to be used a lot for carrying heavy things.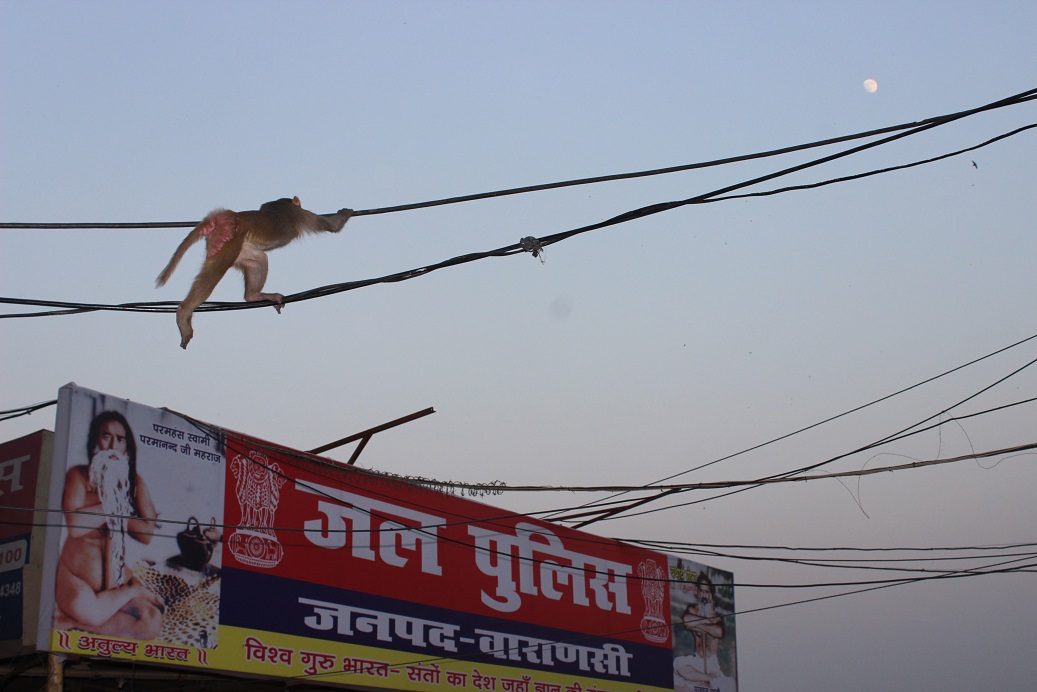 Always a few monkeys hanging around.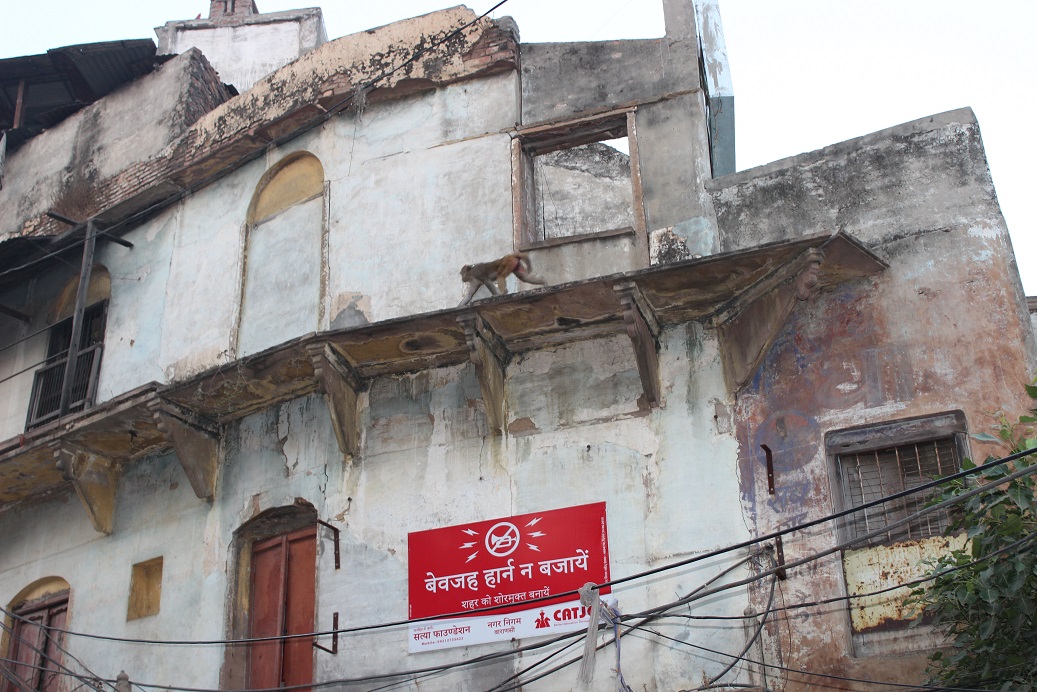 And the old incredible buildings give them a place to climb and play.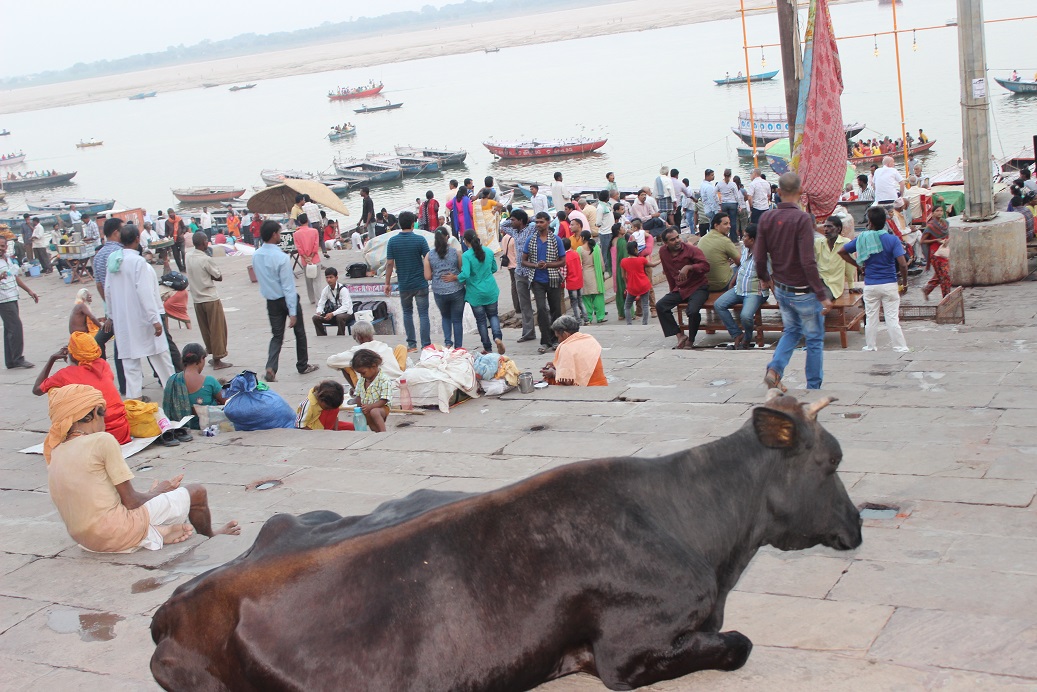 Soon we reach the waterfront where the celebration is going to take place. Everyone, including the cows find a place to sit.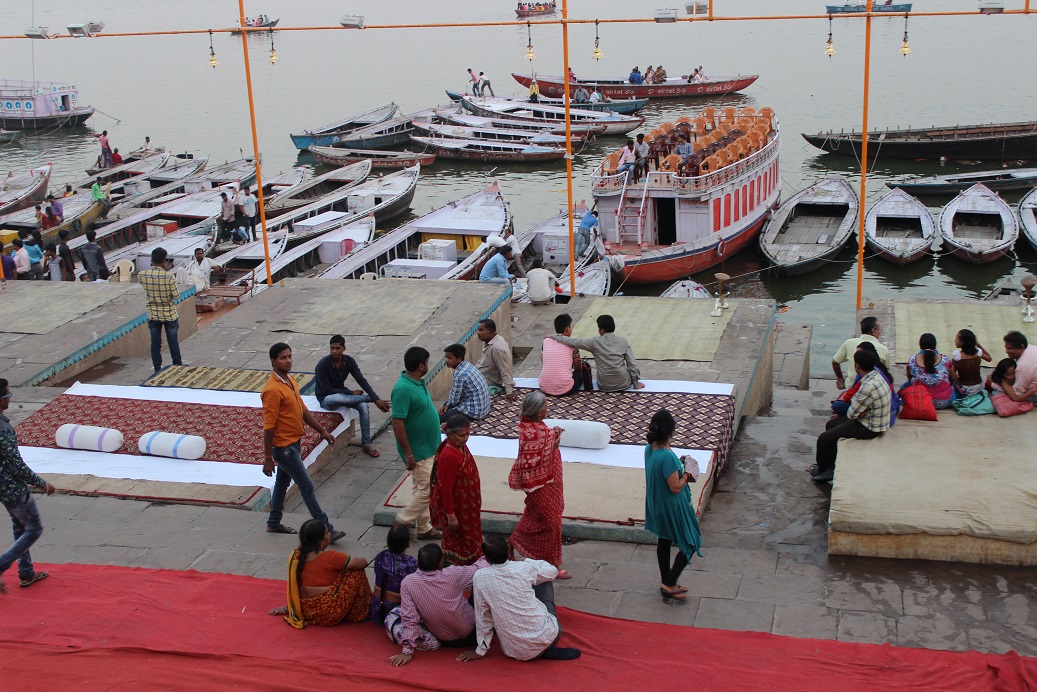 There are lots of boats that have been rented out and will soon fill with people wanting the vantage point of looking up into the ghats.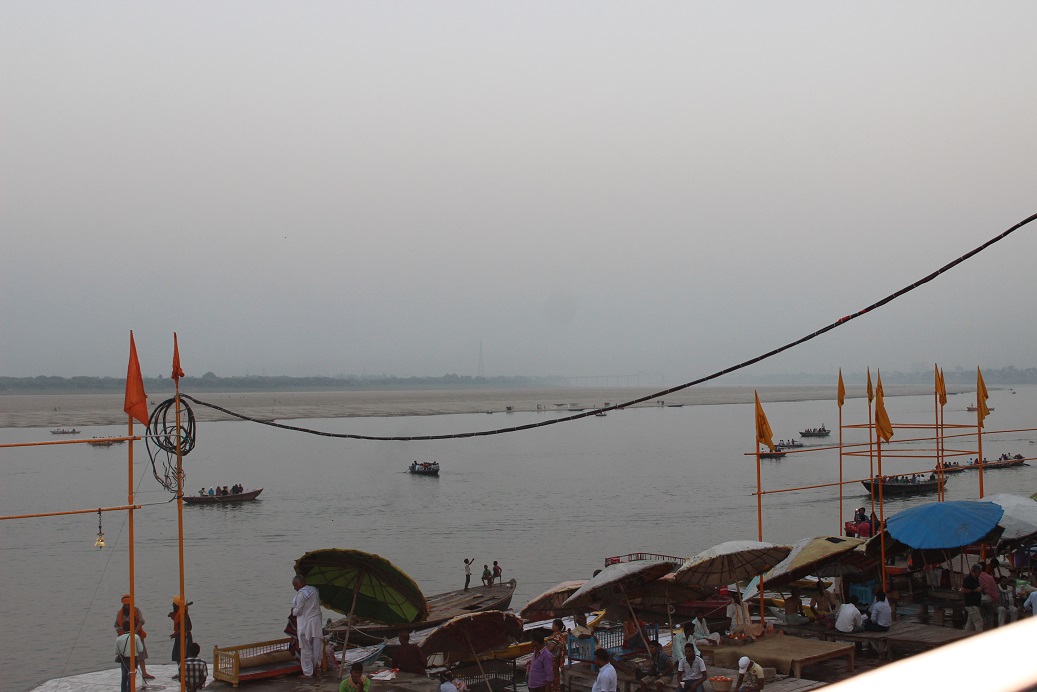 The fact that Varanasi is the holiest city for Hindus and one of the oldest inhabited cities in the world stays in the forefront of my mind. Everywhere you look something wonderful to see.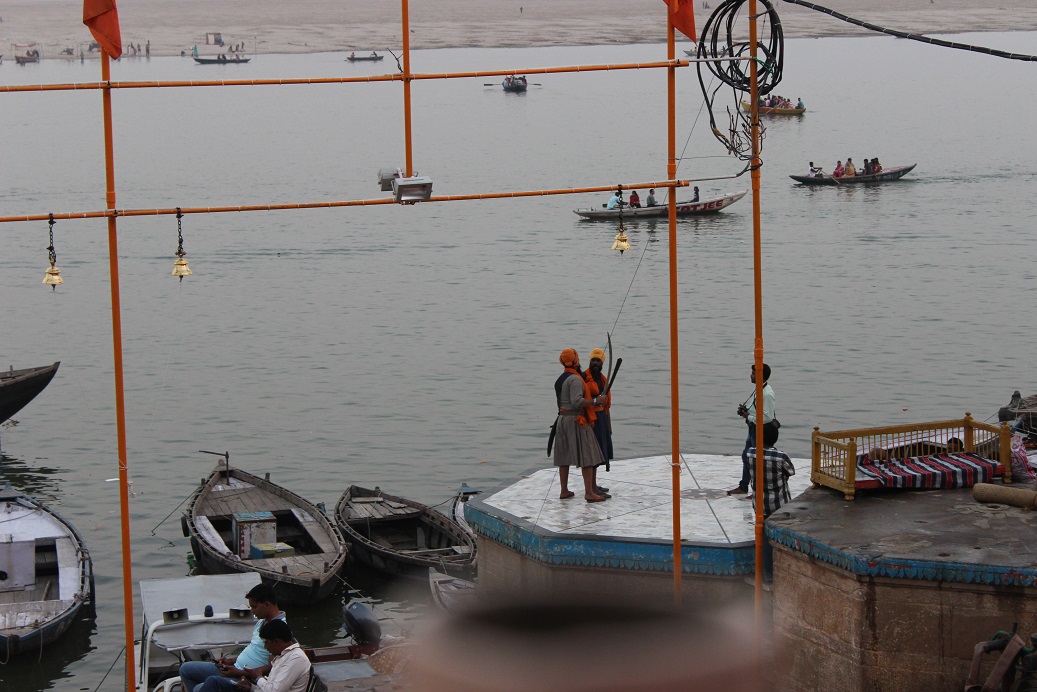 As the sun sets we are getting excited to experience this nightly celebration. As you can see, some of the players getting ready.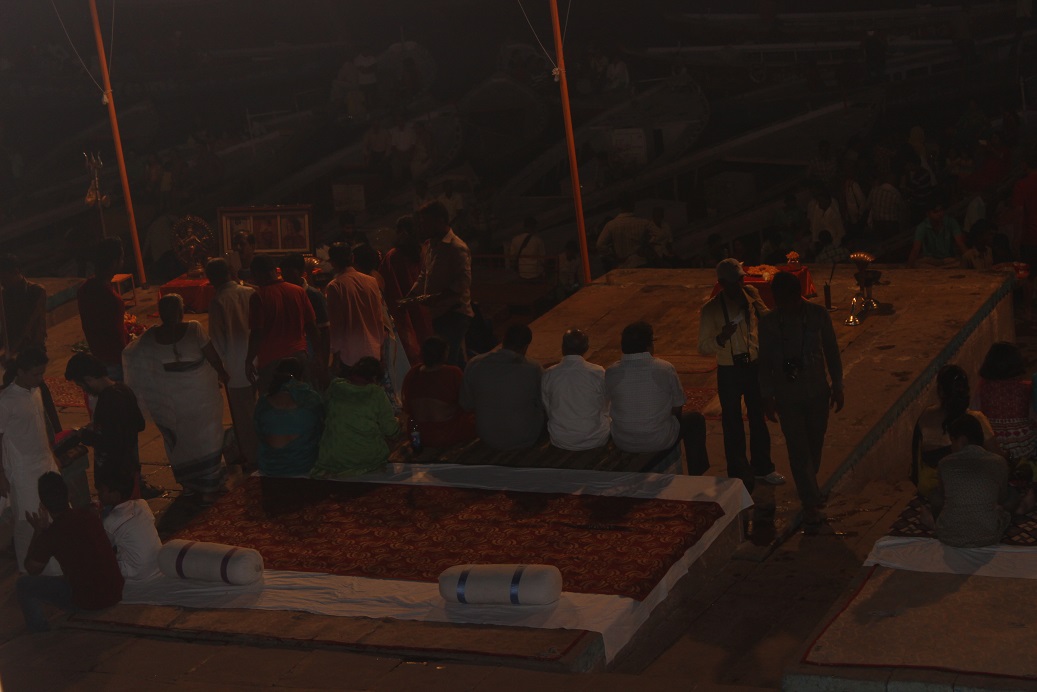 Every night by the Ganges River at the main Dasaswamedh Ghat, a Ganga Aarti ceremony is performed with puja, fire, songs, and choreographed dance.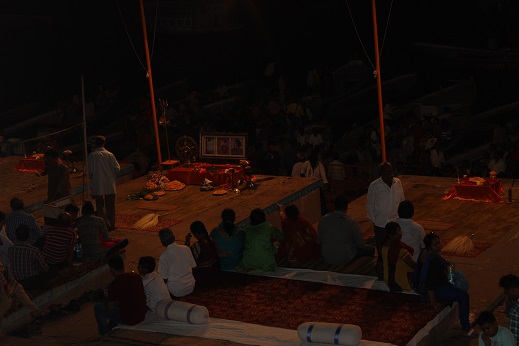 It takes a long time for it to get set up and there are many people involved.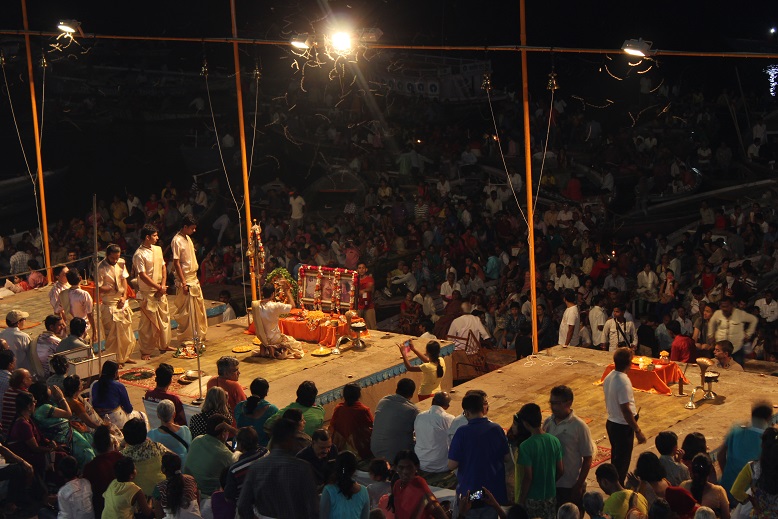 Diya offerings are floated down the river, bells ring throughout the night air.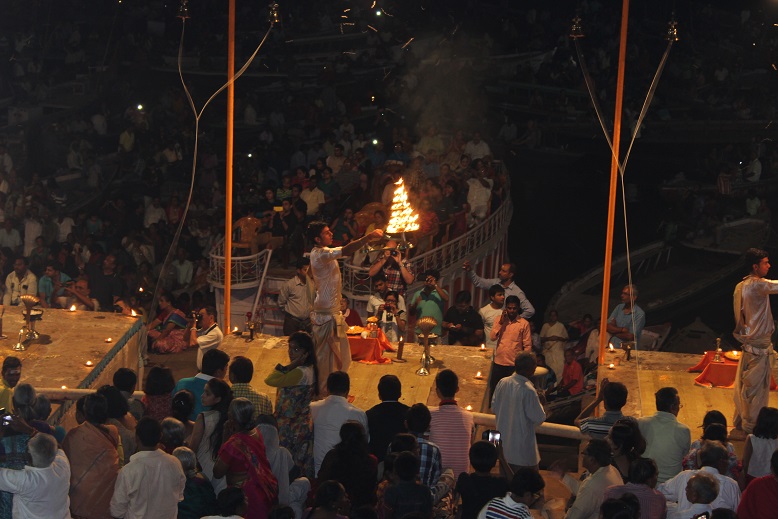 Candles, dance, music all wonderfully coreographed.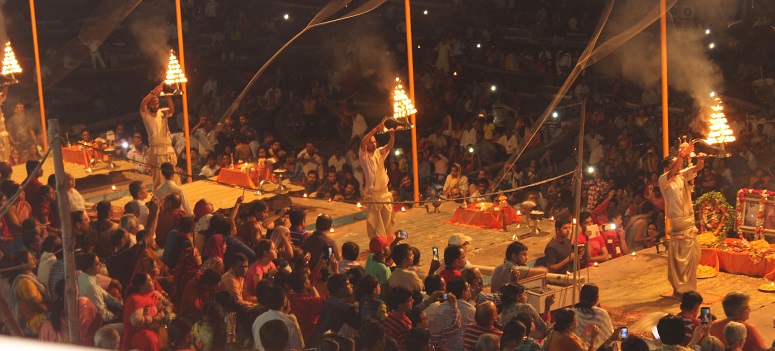 A Ganga Aarti Youtube video gives you a chance to see what we experienced. The Ganga Aarti is performed at three cities in India nightly, Haridwar, Rishikesh, and Varanasi.
From our seats, that were on a patio outside a building above the stairs, our view was great.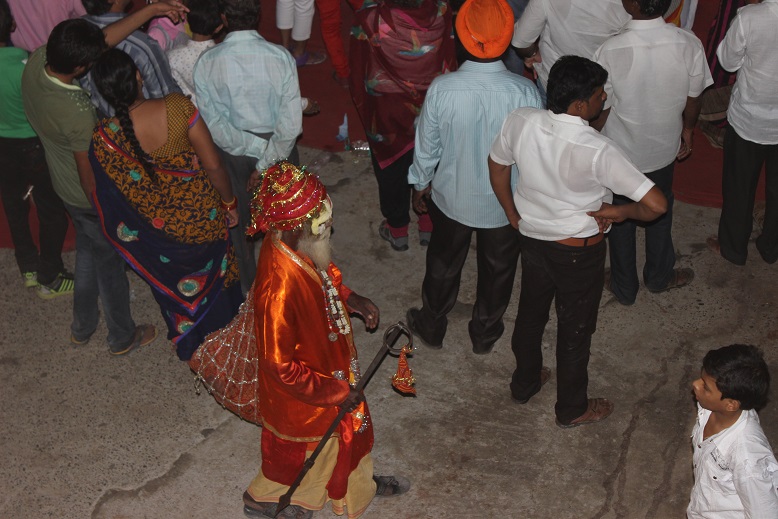 Throughout the evening there was great people watching.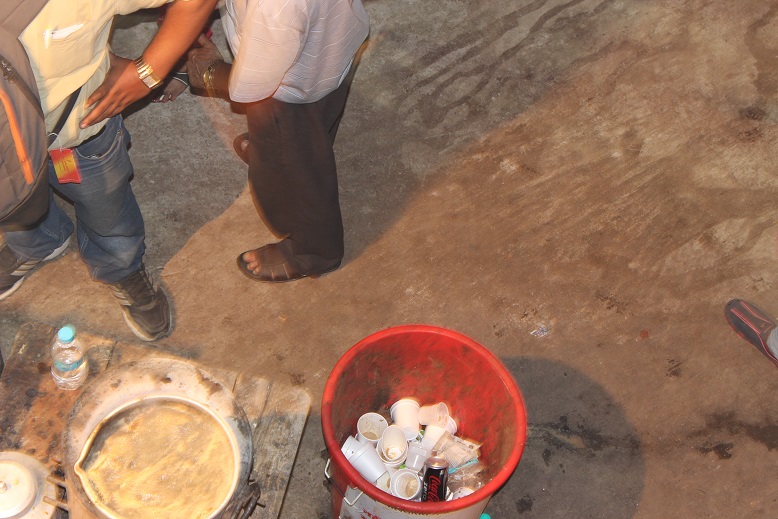 There was even chai for sale. You can see it being cooked, to the left of the trash can, right below where we were sitting.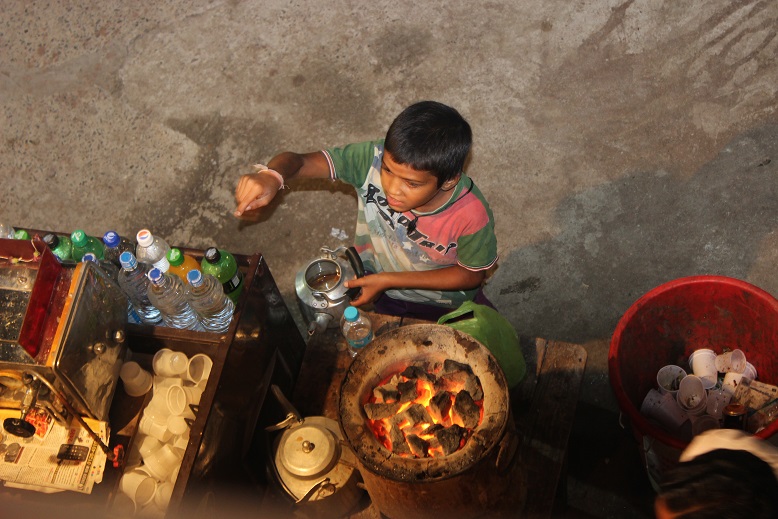 This little boy is buying some and you can see the coals the pot had been placed on.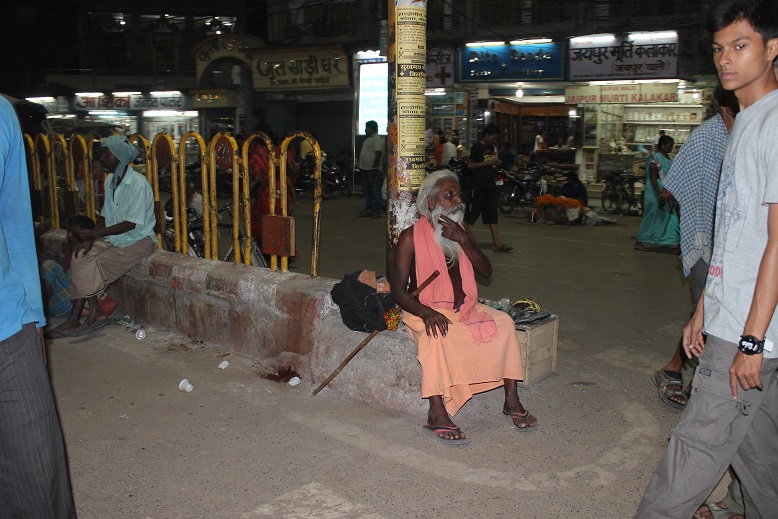 It was time to find our way back to our bicycle cab.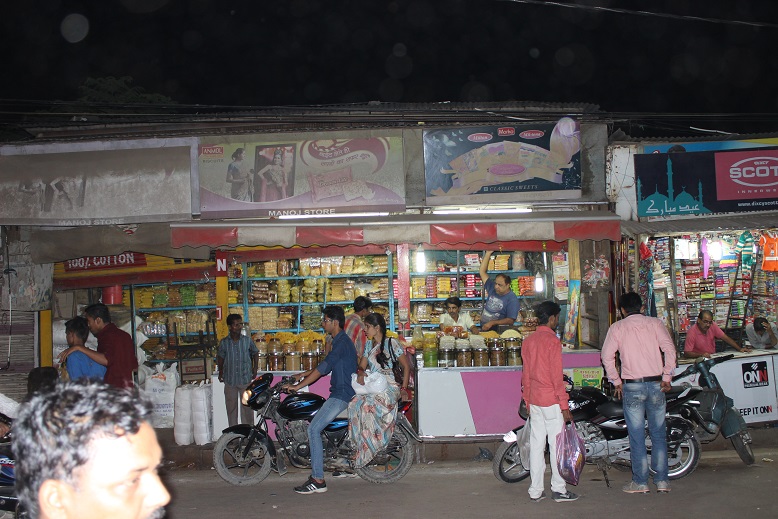 As we were being taken back to our hotel, businesses were still bustling.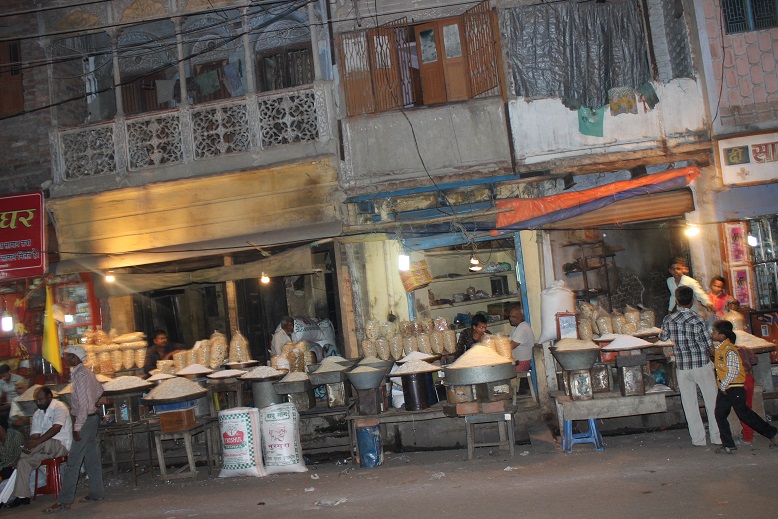 This incredible rice shop would be the last picture I took that night.
It was an amazing adventure and I am not ready to leave Varanasi tomorrow to head for Agra. I need at least a couple of weeks in Varanasi. However, we still have a surprise waiting for us in the morning and I am so excited to sneak out and see some really incredible temples.
Thanks again for reading and sharing my blogs. Stay tuned we still have a lot of trip left.
I know in 2017 I will be hosting a pilgrimage to India with my friend. I hope you will want to join me on this journey.
Namaste, Peggy