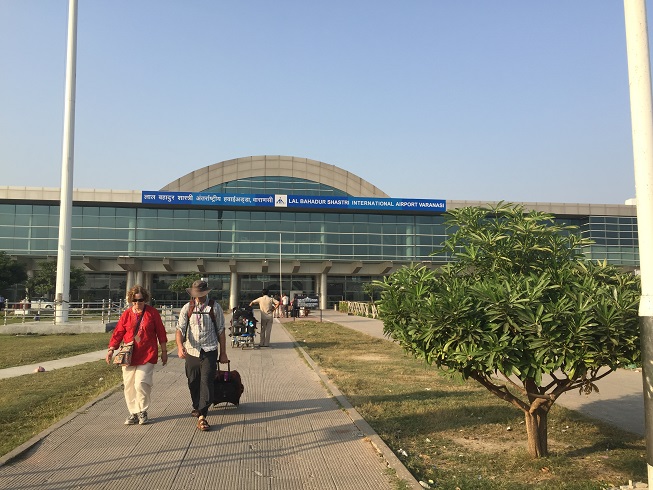 It only takes about an hour by plane from Khajuraho to Varanasi. Once we arrived, our guide was waiting to take us to the hotel. Not everyone from the Pilgrimage group that I was with came to Varanasi. Some had been here prior to the immersion, some were just going home. I was really excited that many of my friends from Dallas were on this adventure with me here in Varanasi.
Varanasi, or Banaras or Kashi (yup, like the cereal) as it is sometimes known has always been at the top of my India list. This is the home of the Ganges or Ganga, the holiest river in India. It is the archetype of all the worlds sanctified waters and is revered as both, goddess and mother. Its ritual purity negates everything inauspicious. A dip in the river purifies the sins of the living and ensures the salvation of the dead. It also symbolizes Shakti or the power of the feminine principle in life. Every day is a special day in Varanasi with particular rites to be performed in observance of some festival or the other. As such, taking a dip or bathing in the holy waters of the Ganges at various places at various times confers grace on the devotee. This is particularly so during the festivals. Likewise, early morning is seen as the best time for bathing in the holy water with the first rays of sun breaking through the clouds in the east. When people bathe in the holy Ganges, they take up the water in their cupped hands and pour it into the river as an offering. A bath in the Ganges has sacred and cultural connotations that go back centuries. It is a cleanser of all sins. It is the protective mother from which all reality flows and to which everything returns for protection and purification.
I am going to be very honest and upfront with you, I took a lot of pictures…a lot! Like I said, I have been waiting a long time to visit here and already have plans to go back (want to go with me in 2017, send me a text 972-658-1600).  I could have easily have separated the pictures into categories, but I wanted to remember it the way I originally saw it, so I will throw in tidbits about Varanasi along the way.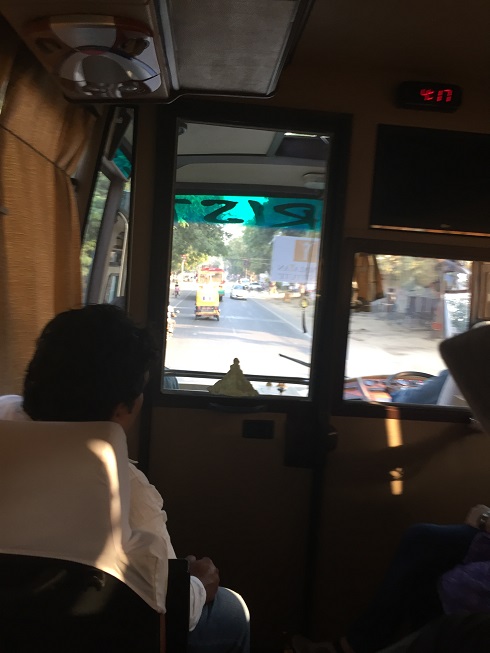 The airport was quite a ways from the main part of the town, so the bus ride seemed to take almost as long as the flight.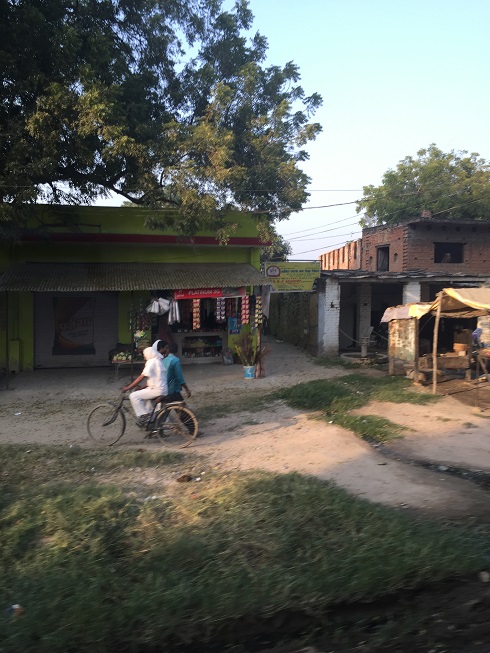 We drove through neighborhoods on the outskirts of town that seemed to not be too populated.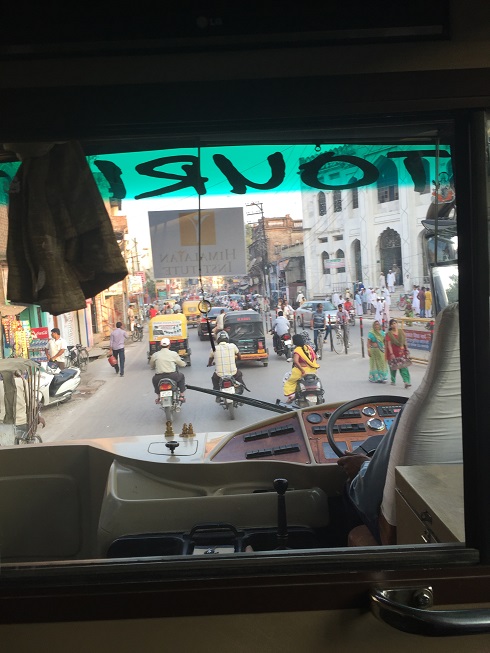 But as we got closer in to downtown Varanasi, it got very busy and the traffic was, like in most Indian towns, quite congested.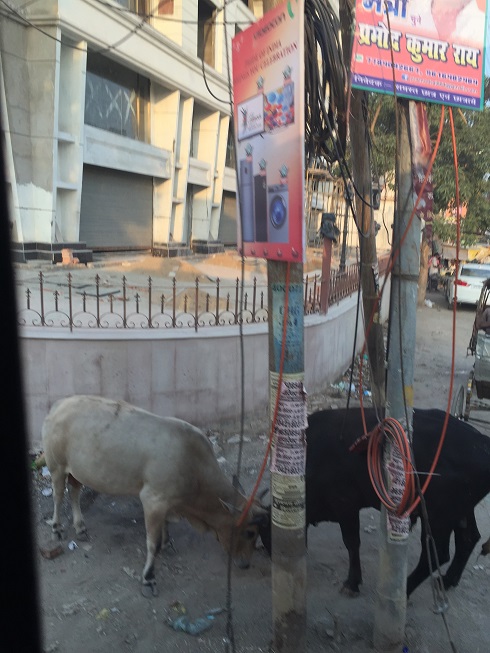 I loved watching these two bulls playing around by locking horns and pushing each other back and forth.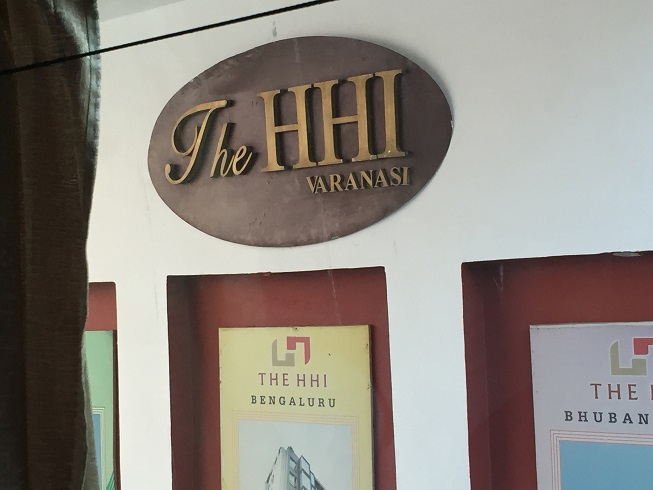 We finally arrived at our hotel which seemed to be tucked up behind a lot of other buildings. If you didn't know it was there, you wouldn't know.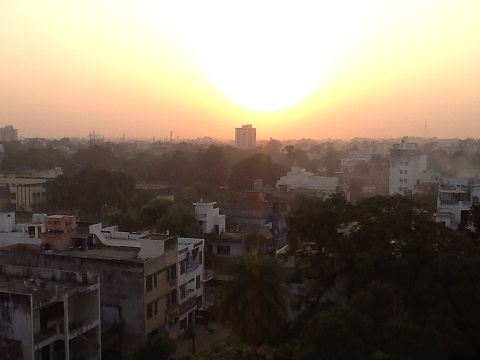 This is a late afternoon view from our room. I just couldn't wait to get out there!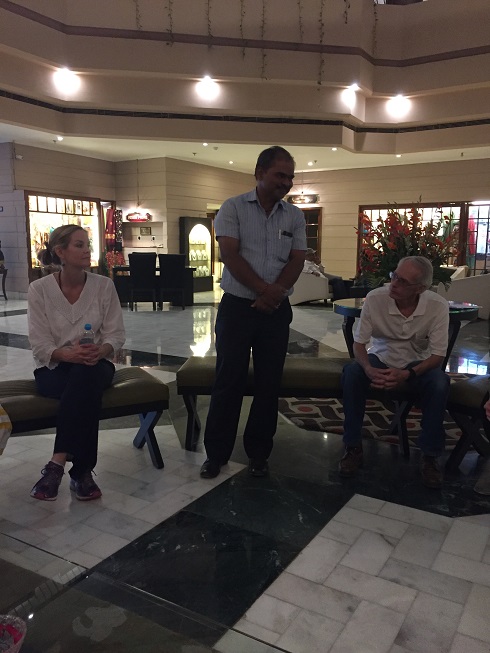 After we checked in, we all met downstairs for a little meet and greet.  We were the group leaving the Institute after two weeks and there was another group that was on its way to the Ashram that had now combined with our group. Soon we were met by our guide who gave us our agenda for the trip. It was so exciting to hear that we were going to a silk factory. If you read my blog on my first trip to India, you read about me getting to go to the silk worm auction on the way to Mysore. Now I would get to see them actually weave the silk.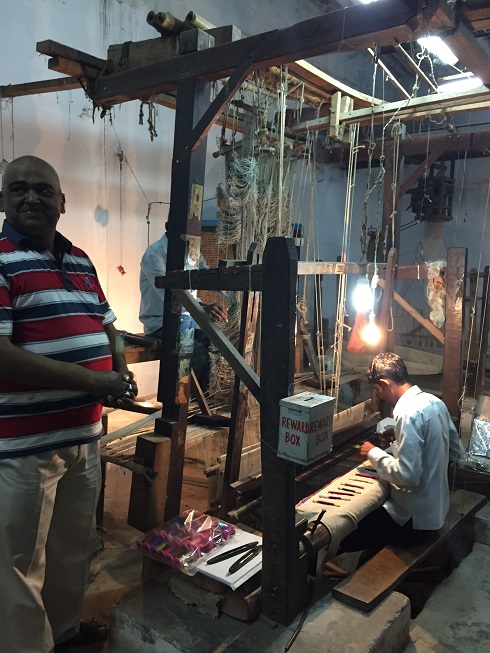 Now I had seen weaving looms before, remember I used to be a buyer for Neiman Marcus and when I was buying intimate apparel I got to work with silk a lot.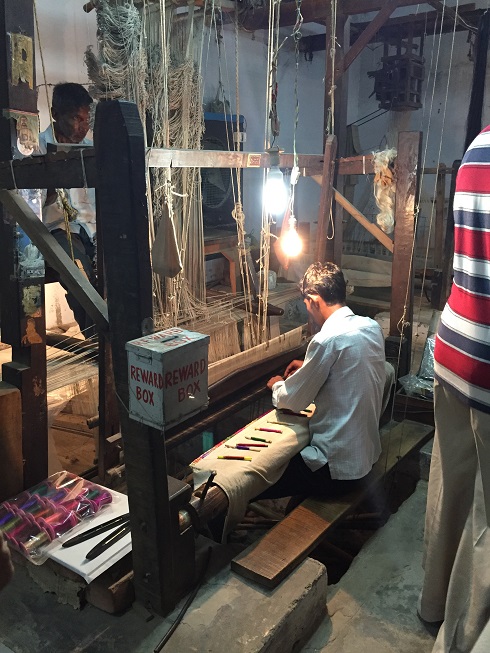 I had not, however, seen anything quite like this.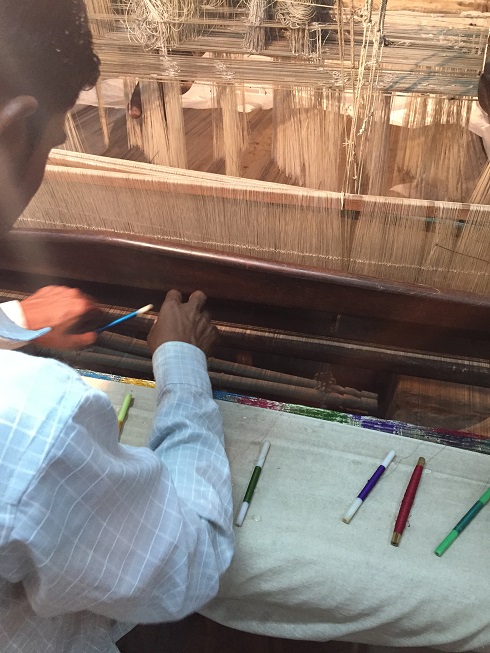 On this specific machine, two men worked it. The colored pen-like looking things are actually spools of silk in different colors. The weaver is inserting them under and over the silk threads on the loom to create a design.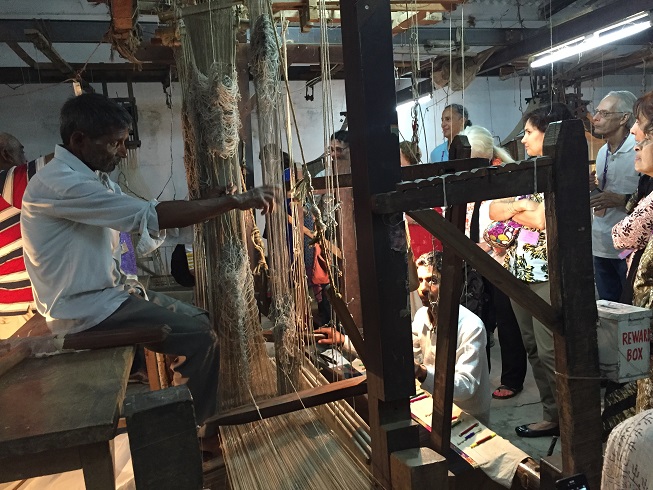 One lifting the threads, the other weaving the silk threads through the other way.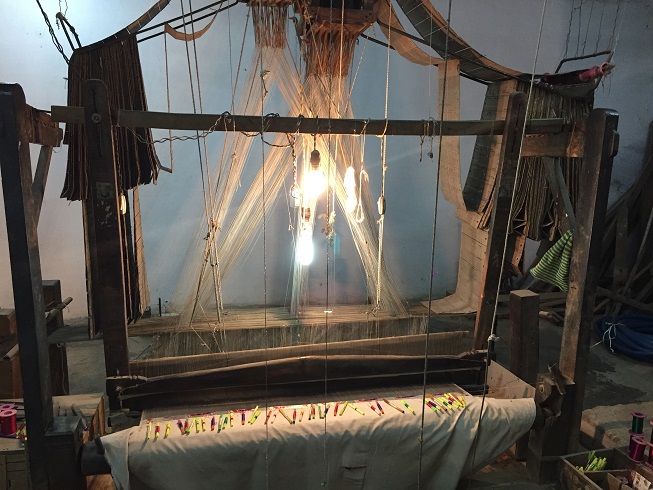 There were thousands of threads, in many colors being worked at one time.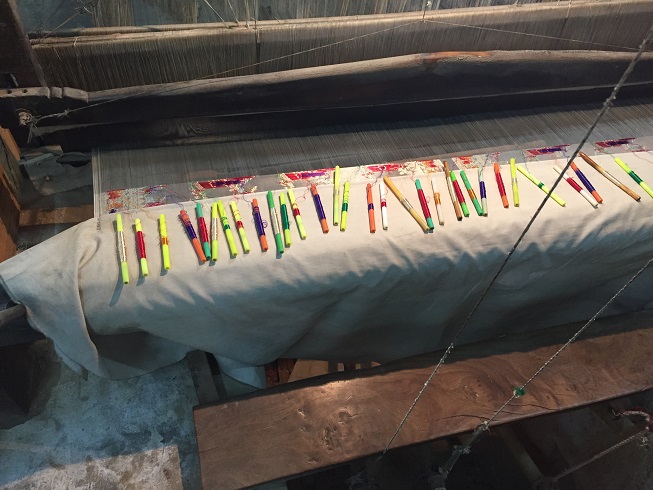 The most amazing thing is that these weavers knew by heart which threads came next in order to make this print.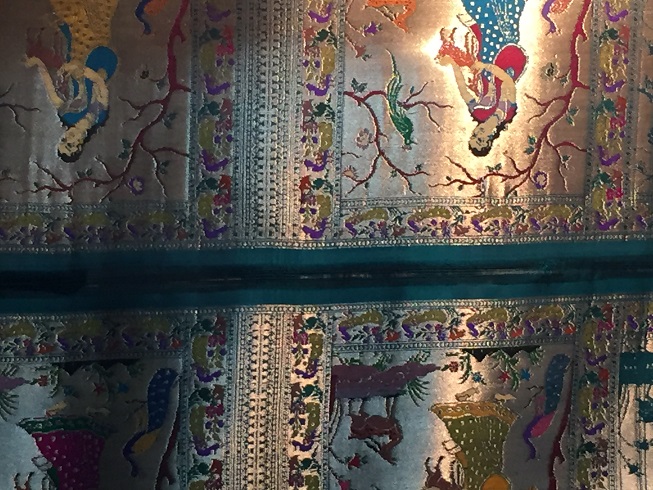 It doesn't quite seem possible, but these weaving families carry this tradition in their minds, much like the masters of the tradition remembered the stories, mantras, and sutras. In addition to remembering when every color of thread was supposed to be threaded through next, they did the weaving looking at the back side of the piece, so when you turned it over, it actually looked upside down.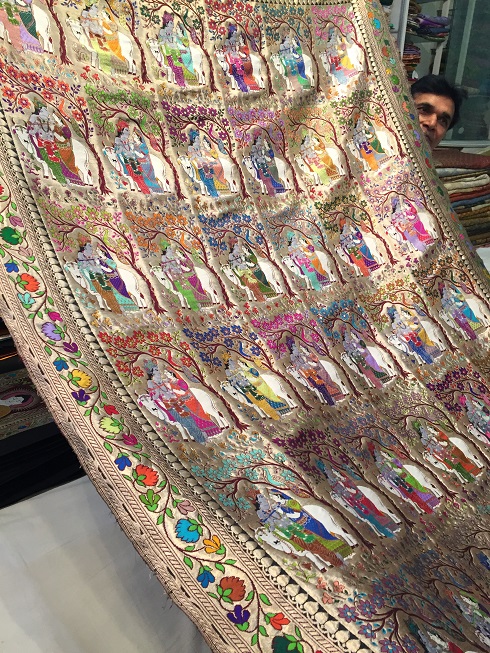 When done, this is what they will have woven. Magnificent.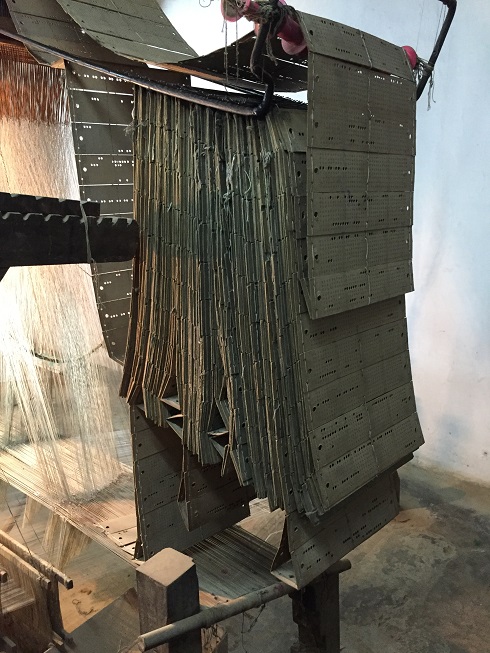 They did have a more modern loom, reminded me of the days of computer punch cards, and worked somewhat the same way.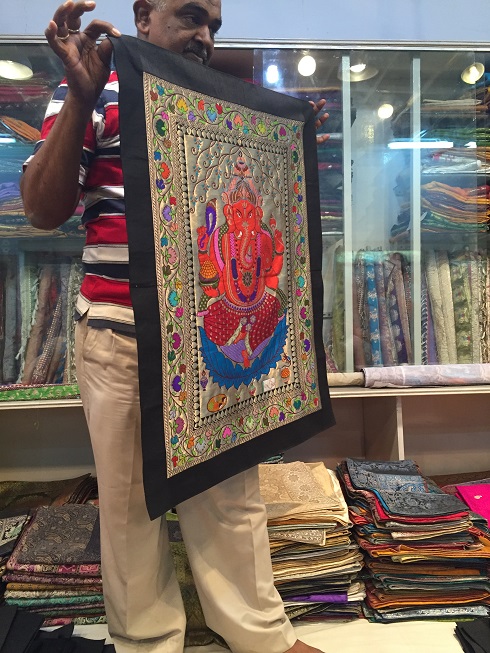 This beautiful Ganesha wall hanging almost found a way back to Dallas, but I resisted as my bags were quite full already!
After the factory, we returned to our hotel for the evening. Jane and I had had to change rooms do to a little electricity issue (Jane found out she has no electrician skills, but I gave her an "A" for effort). We have a big day tomorrow…finally getting to that river!
Thanks for reading, don't miss the future blogs, they will be exciting. Please share with your friends!
Namaste, Peggy